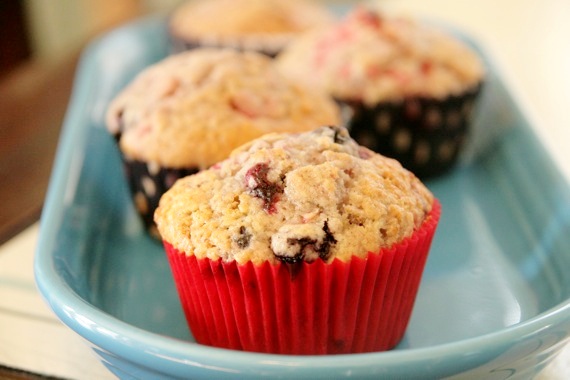 There's a store near our house that sells locally grown fresh fruits, vegetables and grains (and organic groceries) and every summer they're literally bursting with ripe, delicious summer fruits and veggies. I go all the time and stock up on berries, peaches, corn on the cob, watermelons, etc. Every summer, I'm up to my ears in fresh berries and I love it! Luckily, I just happen to have some delicious blueberries, raspberries and blackberries and immediately, Ina Garten's recipe for Tri-Berry Muffins pop into my head. What a fantastic way to use all three berries!
Unfortunately, my sweet hubby has been in Miami for two days training for a new software. Big time bummer (thank heavens he comes home tonight! Yippee!!). I had been planning all week to bake him something delicious to take on the plane (besides his travel-size bag of mini-Oreos), and these muffins were the perfect thing! Great for a snack and breakfast!
Tri-Berry Muffins
-adapted from Ina Garten, Barefoot Contessa At Home cookbook
3 cups all-purpose flour
1 tablespoon baking powder
1/2 teaspoon baking soda
1/2 teaspoon kosher salt
1 teaspoon ground cinnamon
1 1/4 cups milk
2 extra-large eggs, lightly beaten
2 sticks unsalted butter, melted
1 cup fresh blueberries
1/2 cup fresh raspberries
1/2 cup fresh blackberries, sliced in half
1 1/2 cups granulated sugar
Preheat oven to 375°F. Line muffin tins with paper liners.
Sift flour, baking powder, baking soda, salt and cinnamon together in a large bowl. Stir with your hand (or a whisk) to be sure the ingredients are combined. In another bowl, combine the milk, eggs and melted butter.
Make a well in the middle of the dry mixture, pour the wet mixture into the well, and stir until just combined. There will be some lumps but don't overmix the batter. Add the blueberries, raspberries, blackberries and sugar and stir gently to combine (*be really careful when you do this, otherwise the batter will turn blue!)
Using a large spoon or scoop, spoon batter into the muffin cups to fill the liners. Bake for 20 to 25 minutes, until a cake tester comes out clean and the tops are nicely browned.
Yield: 16 to 18 muffins