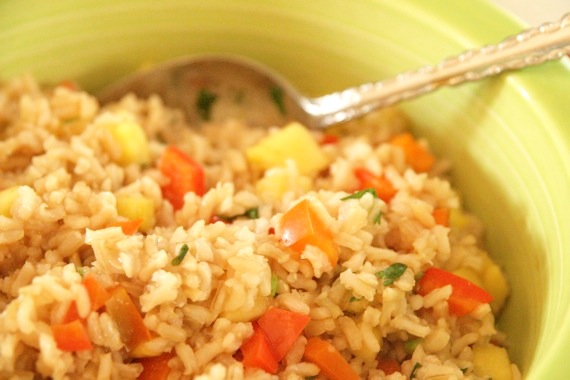 This is a really useful recipe to have around. Not only does it pair well with the quesadillas I made the other night, it goes great with grilled fish, chicken, pork chops….almost anything! The pineapple flavor is just delicious and adds a great sweetness to the rice. It's amazingly simple and comes together in about 10 minutes. I make it all the time!
Pineapple Rice
1 cup quick cooking rice (I like brown)
1 cup chicken broth (or water)
1/2 cup fresh chopped pineapple
1/2 red bell pepper, chopped
salt, to taste
slivered almonds
cilantro
In a medium-sized pot, boil the chicken broth and add the rice. Remove from heat and cover. Let sit for 10 minutes. Fluff with a fork.
Add the salt, chopped pineapple, pepper, almonds and cilantro. Stir and let sit for a couple more minutes before serving.
*Additionally you can also add a little soy sauce or in my case, lime Ponzu.