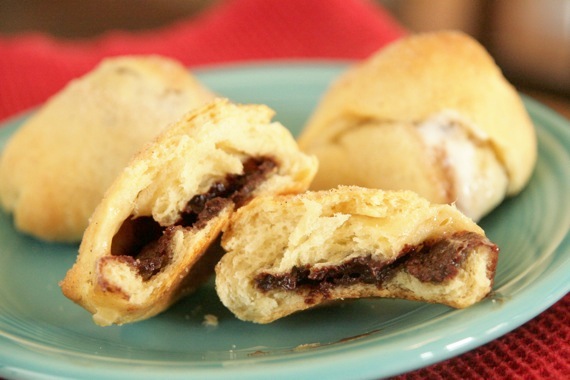 Aaaand welcome to "more random recipes nobody needs". Here we have another doozy- Gooey Chocolate Marshmallow Puffs- they're a little tacky, shamefully easy and by no means low in fat or sugar. But hey, a girl's got to do something to pass the time. And these are pretty darn tasty, if I do say so myself! I got the idea from a Gooseberry Patch cookbook while browsing in a Half Price Books store with my sis. Basically, just a crescent roll with a marshmallow baked inside it. I took it from there and somehow ended up with these little guys. I'm a little embarrassed to say we pretty much scarfed these (all) down in record time. Hubby was especially impressed.
So if you're looking for something sweet and tasty that's just about as easy as they come- look no further! These are a great little snack!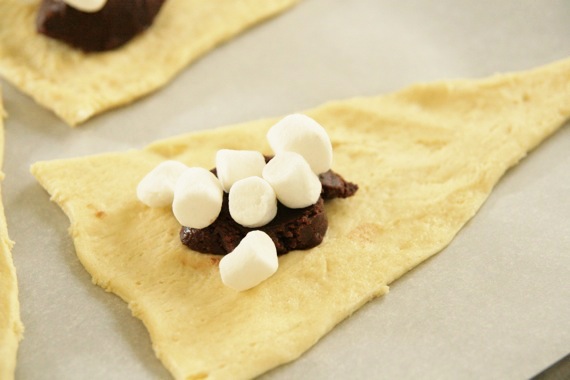 Gooey Chocolate Marshmallow Puffs
1 package Pillsbury Crescent roll dough
1/2 cup prepared chocolate ganache (equal parts chocolate and heavy cream melted together), or chocolate chips if you don't have any ganache on hand
handful mini marshmallows
cinnamon and sugar for sprinkling
Preheat the oven to 350 degrees. Unroll the crescent dough and spoon a little ganache (or a few chocolate chips) in the center of each triangle. Top with 4 or 5 mini marshmallows and fold the dough up like a little purse, making sure to seal all the edges. Sprinkle with sugar and cinnamon and place on a baking sheet lined with parchment paper. Repeat with the remainder of the rolls, then bake for 12-15 minutes or until the puffs are golden brown. Let cool for 5 minutes before serving.