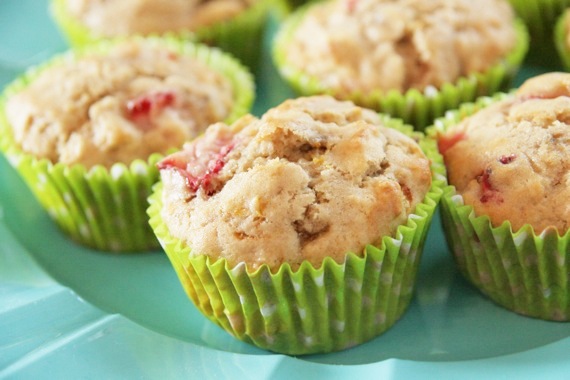 Good mornin', good moooornin'! It's great to stay up late, good mornin', good mornin' to you! Sorry. Hope you don't mind if I hit you with a little Debbie Reynolds this morning! A personal favorite of mine…Anyway, I'm particularly excited about these muffins- they're the perfect way to wake up in the morning! They're cheery, colorful and full of tons of juicy, delicious fruit – who wouldn't want to have one of these first thing in the morning?! I got the idea for these from my favorite kind of yogurt – Yoplait makes a strawberry-orange-banana yogurt called "Strawberry Orange Sunrise" and it's super delicious! I thought it would be fun to create a muffin based on these flavors, and while I'm at it, go ahead and add in a little fresh peach (YUM!). So I got in the kitchen with my Michael Jackson blaring (yes, there was indeed some booty-shaking involved…not gonna lie) and whipped these little babies up. They're moist, fruity and just perfect with a cup of hot coffee bright and early in the morning! Enjoy!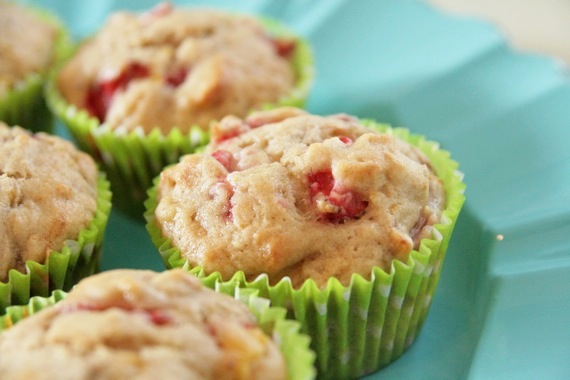 Strawberry Orange Sunrise Muffins
2 1/2 cups flour
1 cup brown sugar
2 large eggs
1 stick butter, melted and cooled
1 teaspoon vanilla extract
1 1/2 teaspoons baking powder
1/2 teaspoon baking soda
1/2 teaspoon salt
2 ripe bananas
1 1/2 cups strawberries, hulled and chopped
1/2 cup fresh orange juice
1 medium-sized peach, peeled and chopped
Preheat the oven to 350 degrees. Line muffin tin with cupcake liners. In a small bowl, mash the bananas. Add the strawberries, orange juice and peach. Set aside.
In a large bowl, whisk together the flour, baking powder, baking soda and salt.
In a separate bowl, mix together the sugar, cooled butter, eggs and vanilla extract.
Add the wet ingredients to the dry ingredients and mix just until combined (you'll have a very thick batter). Gently stir in the fruit mixture. Fill muffin cups 3/4 full and bake for 20-25 minutes, or until muffins are golden brown and a toothpick inserted comes out clean. Makes about 18 muffins.