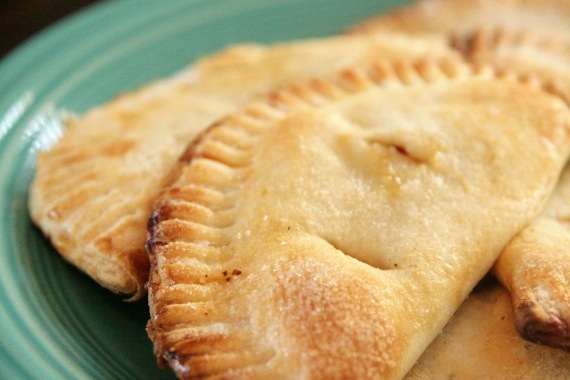 Fried pies are a very old thing. Old as in, my great-grandmother and her mother before her were making them for their kids' lunch pails a loooong time ago. Anytime there was leftover fruit or pie crust, you made fried pies. Simple as that. They're the perfect hand-held size with the perfect fruit-to-pastry ratio. A genius little invention, the fried pie. My mom makes them a lot now, too. She made these, in fact. You can use your favorite pie crust, or if you're in a hurry you can use a refrigerated one. These are so simple, and since they're baked instead of fried, you don't get near as much of the fat (although, they sure taste good fried!). These are flaky, sweet, and full of delicious fruit filling- I love them. And I love their simplicity.
[Baked] Apricot Fried Pies
*the dough and assembly process is taken from The Pastry Queen (seen on Delish); the filling is my mother's.
For the pastry:
1/2 cup (1 stick) unsalted butter, chilled
3 cups all-purpose flour
2 tsp baking powder
1 1/2 tsp salt
3/4 cup ice water
1 egg, beaten with a tablespoon of water (for egg wash)
Combine the flour, baking powder, and salt in a large bowl. Cut the butter into 1/2-inch cubes. Work the butter into the dry ingredients with a pastry cutter or your fingers until the mixture resembles cornmeal. Add the ice water and gently form the dough into a ball. Divide the dough into two halves.
For the Filling:
approx. 15 fresh apricots, pitted and cut into halves
1 cup sugar
water
Put the apricots and sugar in a large pot and fill with just enough water to cover them. Bring to a boil, then reduce heat and let simmer for at least 20 minutes, or until most of the water has cooked out and you have a thick fruit filling. Let cool.

To assemble the pies:
Preheat the oven to 375 degrees. Flour a smooth surface and roll out each half to 1/16-inch thick (just thicker than a tortilla) and cut into 5-inch rounds. Re-roll the scraps and cut additional rounds. Fill each round with 1 heaping Tablespoon of filling. Fold the dough into a half-circle; wet your fingers and press to seal the edges with water. Crimp the edges with the tines of a fork to seal the pies. Cut two 1/2-inch slits in each pie. Brush with the egg wash and sprinkle with a little sugar.
Bake on cookie sheets lined with parchment paper for 12-15 minutes, until golden brown. Makes approx. 12 pies.