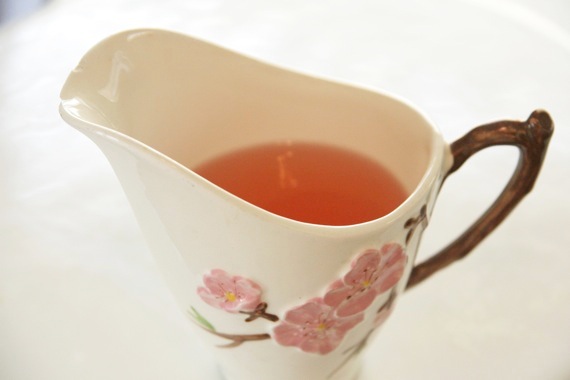 One of my great loves is peach tea. There's just not much better than sipping a cold, crisp glass of iced tea with the subtle kiss of peach on a hot summer day! For awhile now, I've been making my own. It's so amazingly simple- all you need is a little peach simple syrup. Make one batch and add a little to individual glasses, or just dump the whole thing in a large pitcher for a crowd. You can also use it for tons of other things- drizzle it over a warm pound cake just out of the oven, flavor mixed drinks with it, brush a little over the tops of cupcakes before icing them to keep them moist…the list goes on! There are so many great uses for simple syrup, and this peach flavored one is definitely a keeper!
Peach Simple Syrup
1/2 cup sugar
1/2 cup water
2 peaches, pitted and sliced
In a small saucepan over medium-high heat, stir together the water, sugar and peaches. Bring to a boil. Reduce heat and stir until sugar is completely dissolved. Remove from heat and let cool completely.
When the syrup is cooled, line a strainer with a paper towel (this will help catch all the peach fuzz and small bits) and strain the syrup into a storage container. Refrigerate until needed.
*This recipe only makes a small amount (enough to flavor one pitcher of tea), so I'd recommend doubling it if you want to use it for multiple things. Never hurts to have too much! 🙂 It will keep in the refrigerator for a couple of weeks at least!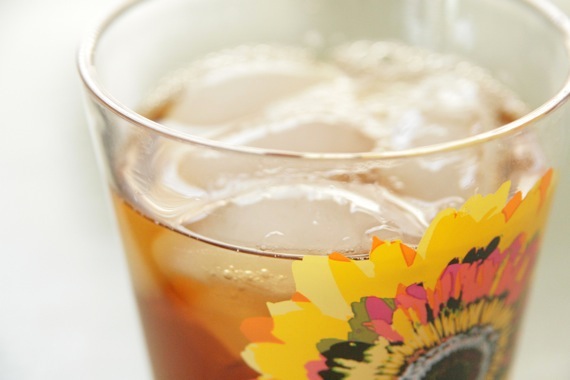 Mmmm, yummy peach tea!!!