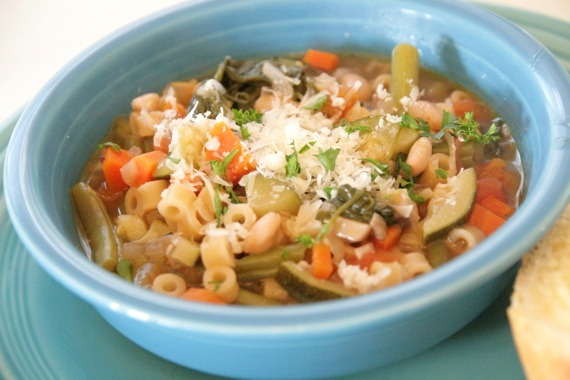 It's that odd time of year again. The period where it's definitely NOT cool, fall weather yet, but I'm sick to death of summer and want warm, comforting meals. I'm tired of ice cream and popsicles and watermelons. I want fall food. I want sweet potatoes and pumpkins and SOUP! Well, today, I gave myself the best of both worlds! I managed to satisfy my craving for cool weather food, while still taking advantage of summer vegetables. I decided to make a hearty, delicious minestrone using veggies that are still in season. A great success! I went to Sprouts and loaded up on fresh summer vegetables- fresh green beans, tomatoes, zucchini, spinach- tons of goodies! This was a really delicious pot of soup! Plus there's plenty for our dinner tomorrow night too (I go back to start teaching the kiddos tomorrow, so coming home to a ready-made meal will be quite nice!). Give this one a try- it's definitely satisfying and comforting, yet really fresh and bright!
Minestrone with Summer Vegetables
2 tablespoons olive oil
1 medium onion, chopped
2 cloves garlic, minced
*4 roma tomatoes, peeled, seeded and chopped (alternatively, you can use one 14-oz. can)
3 carrots, chopped
2 cups fresh green beans, trimmed (snap off the ends, then snap in half)
2 medium zucchini, chopped
1 cup mushrooms, chopped
1 bunch fresh spinach, thoroughly washed and roughly chopped
1 can Cannellini beans, drained
1/4 cup parsley, chopped
1 cup ditalini pasta (any small pasta is fine)
1/4 cup dry red wine (you can leave this out if you want)
3 cups chicken broth
1 cup water
1 tablespoon salt
2 teaspoons pepper
1 bay leaf
Heat the olive oil in a large stock pot over medium heat. Add in the onion and cook for 3-4 minutes. Add in the garlic and cook for one minute more. Add in the tomatoes, carrots, green beans, zucchini, mushrooms, chicken broth, water, wine, salt and pepper, and bay leaf. Bring to a boil, then reduce heat. Cook for 10 minutes. Stir in the spinach, cannelloni beans and pasta. Cook for 15-20 minutes, stirring occasionally, then check for seasoning. Add more salt and pepper if needed. Stir in the parsley at the last minute. Remove the bay leaf. Serve.
Top with fresh grated parmesan cheese, a drizzle of olive oil and parsley. Enjoy!
*To peel the tomatoes, cut a small 'x' in the bottom and place in a pot of boiling water for about 1 minute. Remove from water and immediately place in a bowl of ice water to stop the cooking. The peels should come right off.