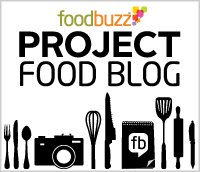 So, it's that time. As promised, here's a reminder to vote for me in the Project Food Blog competition. Now would be a great time for you to send this to all your buddies, family members…well, you get the idea- anyone you can think of!!
Why should you vote for me?? Well for starters, because we're buds. I love you all like family- you've shared in my successes, failures, parties, holidays, good news and bad news.
You were there when we adopted Izzy and bought our first house.
You're sweet comments and encouragement have gotten me through some of the hardest times in my life.
And now I need you again. I need your votes. Here's how to do it: Just head over to Foodbuzz, click "Join Foodbuzz" in the top right corner, sign up (I promise, you won't be getting junk mail!), then go HERE (that's ME!!) and vote. It takes, like, 2 seconds, really!
Please, please, pretty please?? It would really mean so much to me. Really. Thank you SO, SO, SO much!!!!
Please don't forget to tell all your friends!! 🙂