Wow, I'm completely flattered and honored to be one of the 200 food bloggers chosen to move on to Round 3 in Project Food Blog. Thank you, thank you, thank you (again) for your votes and encouragement! I seriously LOVE you guys!!!
And now, on to Challenge #3: Luxury Dinner Party. The next challenge is to hold a party for your friends and family. Whether you're an experienced host or an entertaining newbie, get creative and host a luxurious dinner party where your guests will discover new tastes and exotic flavors. Share your hosting secrets with readers, like how to cook for a crowd, plan a menu, or involve guests in the prep.
New and exotic flavors, huh? Now that's challenging, especially since my blog is anything BUT new and exotic. My blog is just….me. Nothing fancy, cutting edge or by any means exotic; just fun, simple and full of bubbly personality. That's me. I was so nervous when I read the challenge…"Luxury?!?!" My brain immediately started going off in SO many different directions. Until I realized, "this challenge isn't about what Martha Stewart or Ina Garten would do…it's about me and my blog. What I would do." So just exactly what kind of dinner party would Amy throw, do you ask? A simple one. With delicious, comforting flavors, good wine, good company, and most importantly- good music.
"To eat, to love, to sing, and to digest; in truth, these are the four acts in this opera buffa that we call life, and which vanishes like the bubbles in a bottle of champagne."
-Gioacchino Rossini
Food and music have always gone hand-in-hand. In my opinion, we couldn't survive without either. Great composers such as Gioacchino Rossini and Franz Schubert thought so. Schubert used to host musical dinner parties once a week – he and his closest friends would sit down together and enjoy a delicious meal, followed by a few hours of good music. What a perfect evening! Rossini was the ultimate foodie and was said to have cried only three times in his life; the first after a disastrous opera premiere, the second when he heard Niccolo Paganini play the violin, and the third when a picnic basket containing his favorite dish, turkey stuffed with truffles, fell overboard during a boat outing.* Rossini took opera and food very, very seriously. So do I. That's why I'm combining two of my greatest loves into one fantastically delicious, music-inspired dinner party! Come in and join us!
*taken from my Opera Lovers Cookbook
A supper beckons us! The best ever! The choicest delicacies are always eaten and drunk here!
-from the opera Die Fledermaus, by Johann Strauss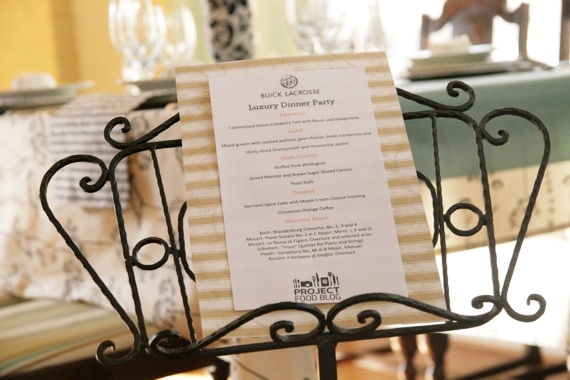 First up on the menu is a Caramelized Onion-Cranberry Tart with Bacon and Gorgonzola. I can't even begin to describe how delicious this is- the tart cranberries contrast so nicely against the sweet caramelized onions, smokey bacon and salty gorgonzola. An absolute crowd-pleaser.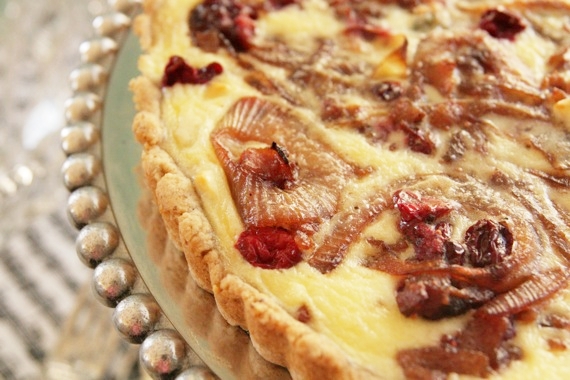 I served a simple salad of mixed greens with toasted walnuts, goat cheese, dried cranberries and thinly sliced Grannysmith and Honeycrisp apples. Honeycrisp apples are pretty much my favorite flavor of Fall, so I just had to incorporate them into this meal!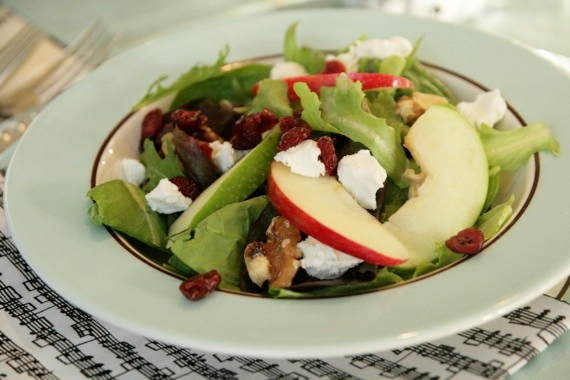 The main dish is a Stuffed Pork Wellington. Tender, juicy pork loin is simply stuffed with parsley and fragrant rosemary, wrapped in flaky, buttery puff pastry and baked until golden. My first time making this- a definite keeper!! This was everyone's favorite dish!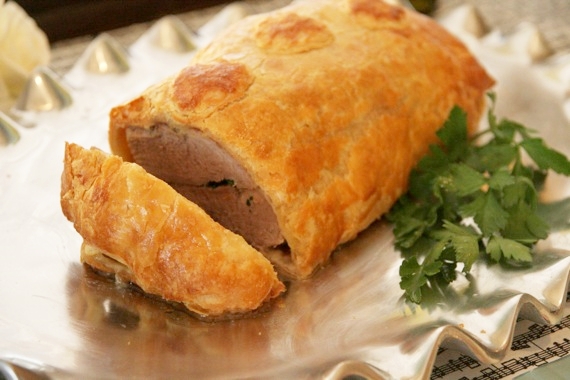 I made a simple side dish of Grand Marnier-Brown Sugar Glazed Carrots. Cooked carrots are tossed with orange zest, Grand Marnier, a little brown sugar and a pinch of ground cloves. Finish off with a sprinkling of parsley and you've got one easy, delicious side dish! These would be perfect served at your Thanksgiving dinner!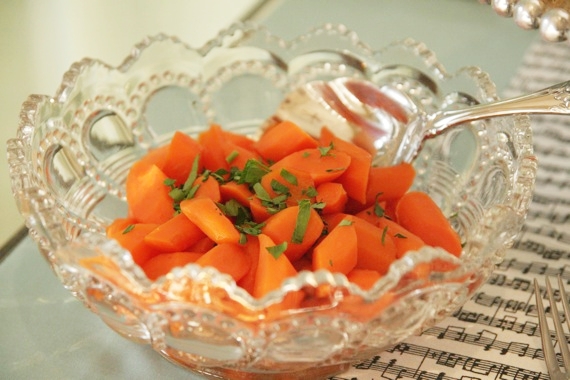 And my favorite part, dessert: a yummy Vermont Spice Cake with Maple Cream Cheese Frosting. Nothing fancy, just a rich, comforting cake with pumpkin and warm Autumn flavors. A Fall favorite! Enjoyed with a cup of cinnamon-orange coffee, this is one fabulous end to a great dinner party!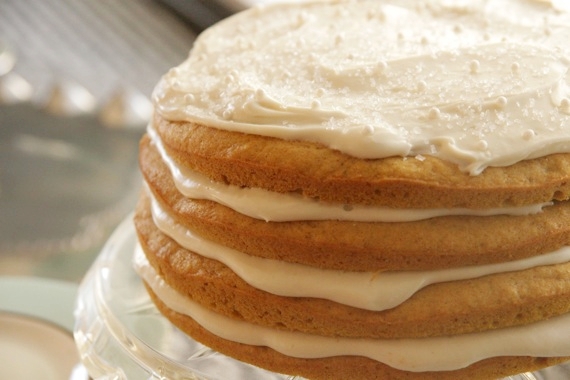 Music to dine by:
Bach: Brandenburg Concerto, No. 2, 3 and 4
Mozart: Piano Sonata No. 1 in C Major, Movements I, II and III
Mozart: Le Nozze di Figaro: Overture and selected arias
Schubert: "Trout" Quintet for Piano and Strings in A Major
Haydn: Symphony No. 46 in B Major, Menuet
Rossini: Il Barbiere di Siviglia: Overture (this may be a little "jaunty" for a dinner party, but I thought it only fitting to include Rossini in our evening, as I know he so would've enjoyed.)
Selected Wine:
MacMurray Vineyards Chardonnay 2008 – crisp and dry, this pairs beautifully with pork. A wonderful accompaniment to a wonderful meal!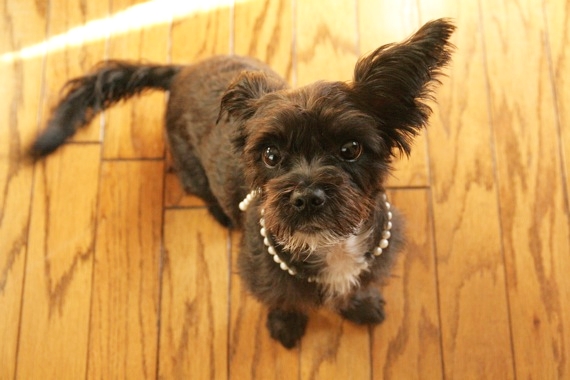 Since this was a luxury dinner party, Izzy insisted on dressing for the occasion.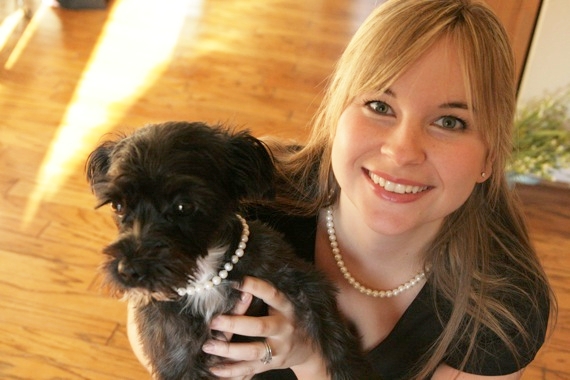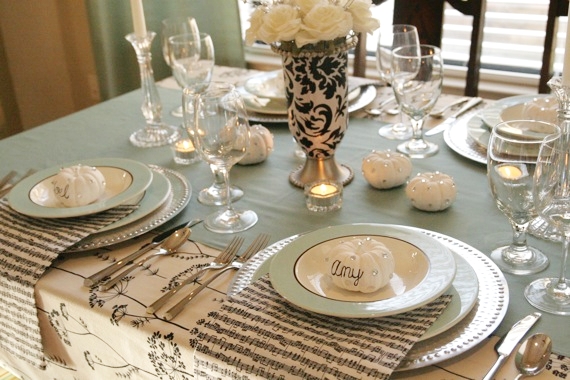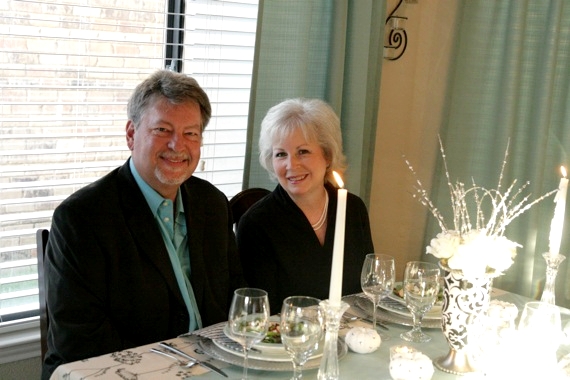 My guests enjoyed a perfectly wonderful dinner party! Thanks so much for coming, y'all!!
While everything pretty much did go off without a hitch, the preparation itself wasn't exactly a walk in the park. It takes lots of work and planning to throw a successful dinner party. Here's a "behind the scenes" look just for you. This is for all of you out there who think perfect dinner parties just "magically" happen. They don't.
Here's the first hour of prep- not too bad, things are going according to schedule. Everything is smooth sailing.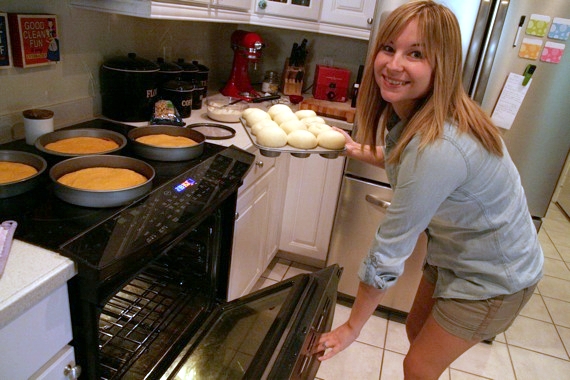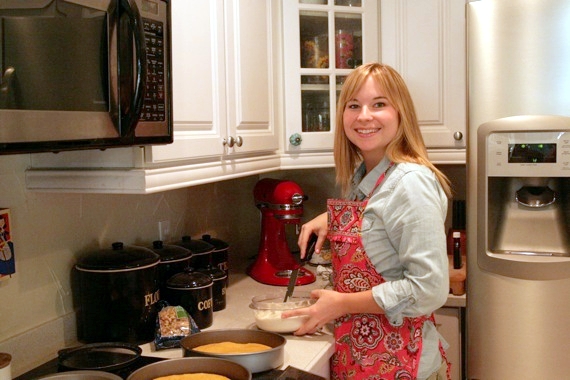 But after dropping a stack of six (extremely heavy!) plates on your toe, cutting yourself with the lid of a plastic tub (who does that?!), and spilling pork juice all down your front, things start to look like this: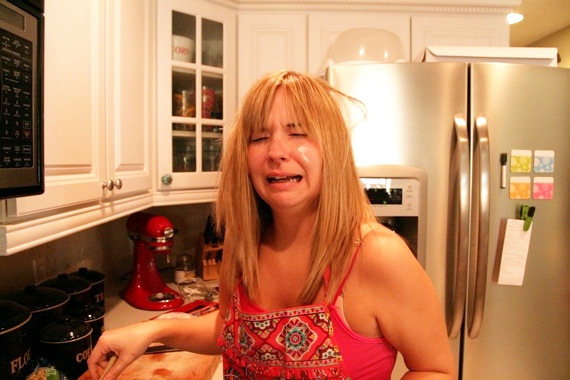 The most important thing to remember is: stay calm. A calm, relaxed host is a good host. You can do this!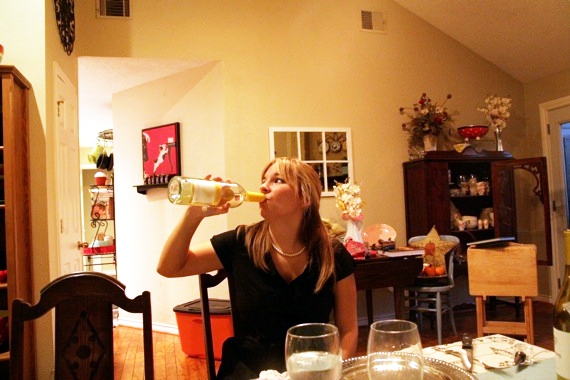 It's always important to have a wingman to help with the mountains and mountains of dishes any dirty dishes along the way.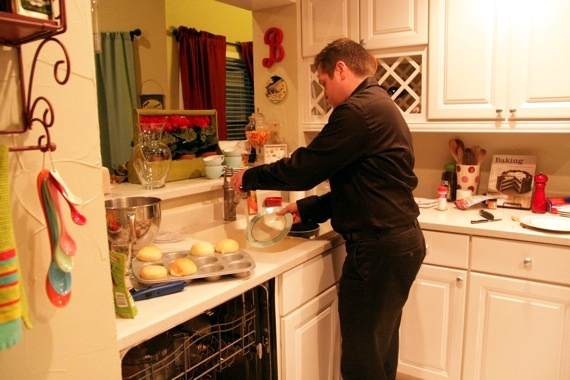 It's very important to have a tripod for your camera. That way you can take perfectly staged shots, like this one: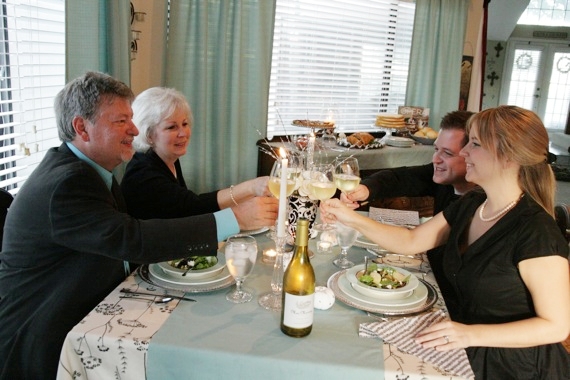 In the end, what really matters is that you stay calm and don't reveal to your guests what went down before they arrived. Sure, even though you worked your rear end off the entire afternoon, yelled at your husband a few times and had a mini meltdown in the kitchen floor- no one needs to know about it. The important thing is that you answer the front door calm and collected, enjoy the delicious food and have a great time with your guests. They'll never know you didn't exactly keep it together in the hours leading up to the party. Relax! Have a good time and most importantly…have a nice big glass of wine!
Now pat yourself on the back- you did it! Congratulations!