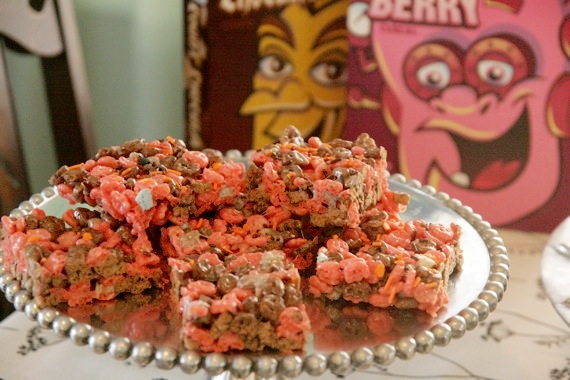 There are certain things that just seem make the Halloween season a little happier for me. Like Halloween Oreos, candy corn (even though I don't eat it- it just looks nice in my candy dish), the cute little Pillsbury cookies with the jack-o-lantern and ghost designs, and last but not least, Count Chocula, Franken Berry and Boo Berry cereals. Around here, you can only get them around Halloween (which is unfortunate, because I'd certainly like to enjoy them year round!). I was lucky enough to find a couple of boxes of Count Chocula and Franken Berry at Target the other day and I was so excited I decided to use them for something extra special- Halloween krispie treats!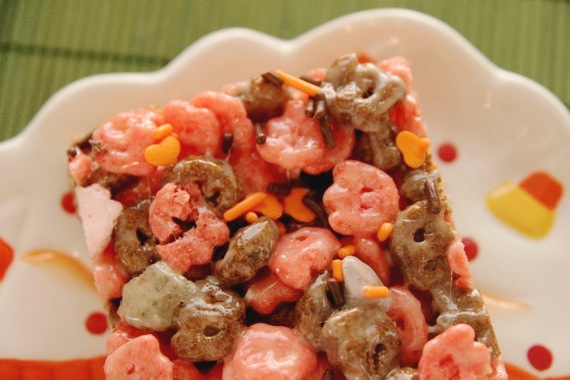 These were so chewy-gooey-yummy and a cinch to make- all you need is marshmallows, butter and cereal (exactly the same as Rice Krispie Treats, but better!), and maybe some cute Halloweeny sprinkles, for good measure. These would be a perfect treat to make with the kiddos and they're a delicious, simple dessert for a last minute get-together or Halloween party!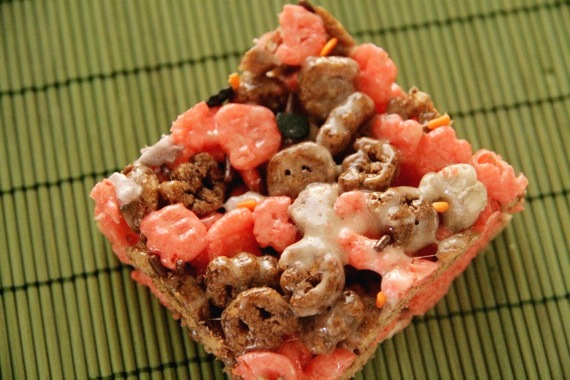 Halloween Krispie Treats
-recipe adapted from www.ricekrispies.com
3 tablespoons butter
4 cups miniature marshmallows
6 cups Count Chocula and Franken Berry cereal
In large saucepan melt butter over low heat. Add marshmallows and stir until completely melted. Remove from heat.
Add cereal. Stir until well coated.
Using buttered spatula or wax paper evenly press mixture into 13 x 9 x 2-inch pan coated with cooking spray. Cool. Cut into 2-inch squares. Best if served the same day.