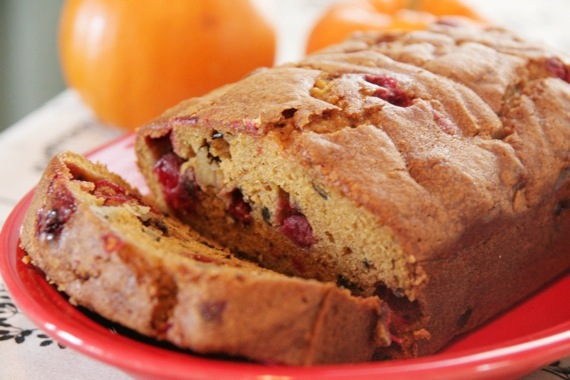 I think as food bloggers, sometimes we tend to try to improve everything. Put our own spin on it. "How can I make this recipe even better?" or "what can I substitute to make this even more delicious?" And that's just fine! That's why we have readers, of course- because we take things and make them our own. But sometimes, we tend to forget that some recipes are simply perfect as is. Like this recipe for pumpkin bread. It's one of the most popular recipes on allrecipes.com; everyone makes it. And for good reason! It's perfectly moist, has just the right amount of spice, the pumpkin flavor really comes out and….it's always, always perfect! It's the only recipe I use for pumpkin bread. So naturally, I had to stop myself when the normal urge hit to start substituting and adding (think butterscotch, caramel, crushed gingersnaps…). In the end, the only things I added were a few chopped walnuts and some fresh cranberries. No substitutions. 🙂 And it was perfectly, wonderfully delicious. This bread always reminds what I love most about Autumn – baking. There's just something magical about baking up a golden brown loaf of warm, spicy pumpkin bread. Your entire house smells warm and welcoming!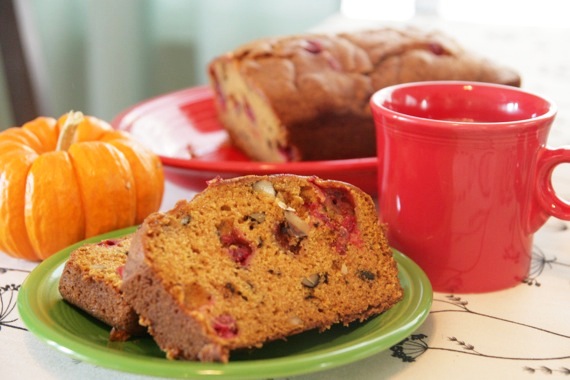 Pumpkin Cranberry Walnut Bread
-recipe slightly adapted from allrecipes.com (originally named "Downeast Maine Pumpkin Bread")
1/2 (15 ounce) can pumpkin puree
2 eggs
1/2 cup vegetable oil
1/3 cup water
1-1/2 cups white sugar
1-3/4 cups all-purpose flour
1 teaspoon baking soda
3/4 teaspoon salt
1/2 teaspoon ground cinnamon
1/2 teaspoon ground nutmeg
1/4 teaspoon ground cloves
1/8 teaspoon ground ginger
3/4 cup walnuts, chopped
3/4 cup fresh cranberries (frozen is fine too- no need to thaw)
Preheat oven to 350 degrees F. Grease and flour a loaf pan.
In a large bowl, mix together pumpkin puree, eggs, oil, water and sugar until well blended. In a separate bowl, whisk together the flour, baking soda, salt, cinnamon, nutmeg, cloves and ginger. Stir the dry ingredients into the pumpkin mixture until just blended. Gently stir in the chopped walnuts and cranberries. Pour into the prepared pan.
Bake for about 50 minutes in the preheated oven. Loaf is done when toothpick inserted in center comes out clean.