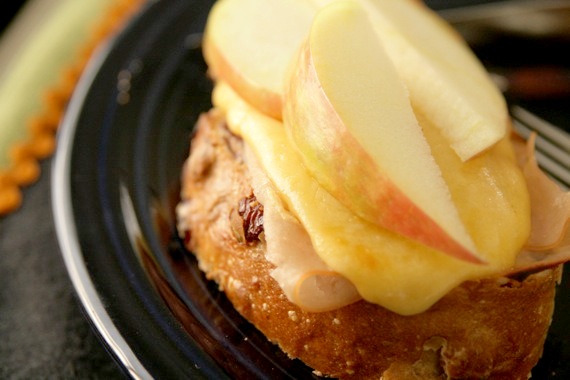 Lunchtime at my work is always enjoyable. The other voice teachers, our accompanist, and the choir directors (including Albert, my boss) all get together to eat and chat. Always a fun time. Except for one thing: Albert ALWAYS out-lunches me! He always brings these beautiful, perfectly wrapped sandwiches with artisan bread, turkey, caramelized onions, apples, cheese, arugula and Lord only knows what else! They're glorious! Week after week I have the worst sandwich-envy; even when I bring delicious leftover soup, casseroles, and a plethora of baked goods! I just CAN'T win!!
However, recently my luck changed when I was fortunate enough to score a gorgeous loaf of cranberry-walnut artisan bread at the store. Ideas starting filling my head and eventually I realized…..this was my chance to out-sandwich Albert! BWAHAHAHAHA!!! So today I managed to put together an absolutely delicious sandwich. One that I think will finally win me the title of "lunchtime champ" (ok so I just made that up, but it might happen!!). Since I was at home for lunch today, I went ahead and did an open face sandwich in the broiler, but when I take this to work, I'll just eat it cold- don't worry, it'll still be awesome!
Harvest Sandwich
2 slices cranberry-walnut bread (sourdough or ciabatta would also work nicely)
mayonnaise
dijon mustard
smoked turkey breast
sliced gouda cheese
thinly sliced honeycrisp apples (pears would also be delicious!)
Spread each slice of bread with a small amount of mayo and dijon mustard. Top with a slice or two of the turkey breast and gouda. Place on a baking sheet and heat under the broiler for about 3-4 minutes, until the cheese is melted. Top with thinly sliced apples and enjoy!