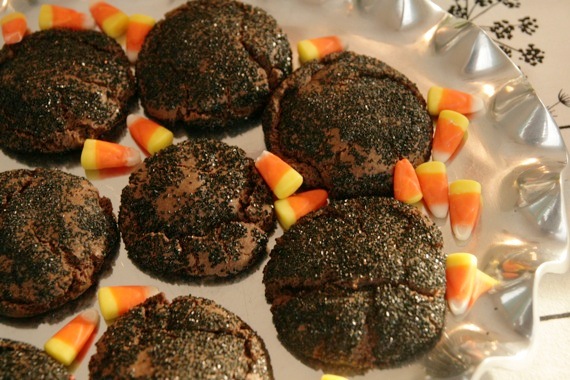 Ugly little things, aren't they? Yep. Sometimes the best intentions can lead total failures. Like these cookies. I saw these Chocolate Pumpkin Spice Kiss Cookies on Barbara Bakes and immediately set out to make them. They looked totally delicious- soft chocolate cookies filled with a sweet pumpkin spice kiss in the center! YUM! Only thing is…I decided to get 'creative' and ended up with some really ugly, rather embarrassing cookies. Remember that time I said there are some recipes food bloggers shouldn't mess with? Yeah, I totally should have taken my own advice here. I was in the Halloween spirit and thought I'd roll the cookies in some black decorating sugar before baking to give a 'spooky' effect. What I ended up with was charred hamburger patty cookies. FAIL.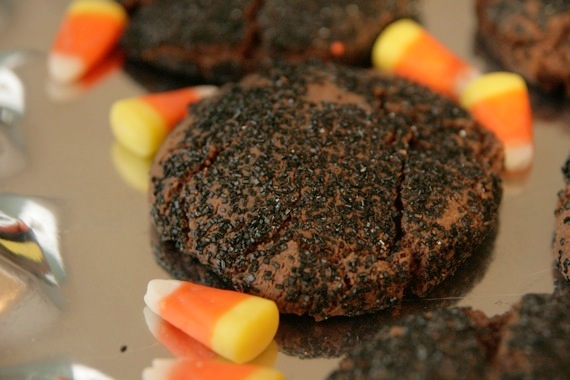 Seriously! Don't they look like charred hamburger patties??! Not pretty. So, hubby and I had a good laugh over it and decided to go ahead and give them a try anyway…besides the fact that the black sugar turned our mouths and teeth black (eww!), these were actually really, really good! The chocolate cookie mixed with the spiciness of the pumpkin spice kiss was a great combination! Despite how delicious they were, I ended up throwing them out since I was too embarrassed to take them to work with me (I'd forever be 'the weird lady who brought burnt meat cookies'– not something I'd enjoy!), BUT, I'll most definitely make these again in the future…just without the black sugar. 😉
Chocolate Pumpkin Spice Kiss Cookies
–Barbara Bakes
2 1/2 cups flour all purpose flour flour
3/4 cup unsweetened cocoa
1 teaspoon baking soda
1 cup sugar
1 cup firmly packed brown sugar
1 cup butter, softened
2 teaspoons vanilla
2 eggs
48 Hershey's Pumpkin Spice Kisses, unwrapped
In medium bowl, sift together flour, cocoa and baking soda.
In large bowl, combine sugar, brown sugar and butter; beat until light and fluffy. Add vanilla and eggs; beat well. Add flour mixture; blend well. If necessary, cover with plastic wrap; refrigerate 30 minutes for easier handling.
Heat oven to 375°F. For each cookie, with floured hands, shape about 1 tablespoon dough around 1 Hershey's Pumpkin Spice Kiss, covering completely.
Place 2 inches apart on ungreased cookie sheets. (I always bake cookies on parchment paper.)
Bake at 375° for 7 to 10 minutes or until set and slightly cracked. Cool 2 minutes; remove from cookie sheets. Cool on wire rack for 15 minutes or until completely cooled.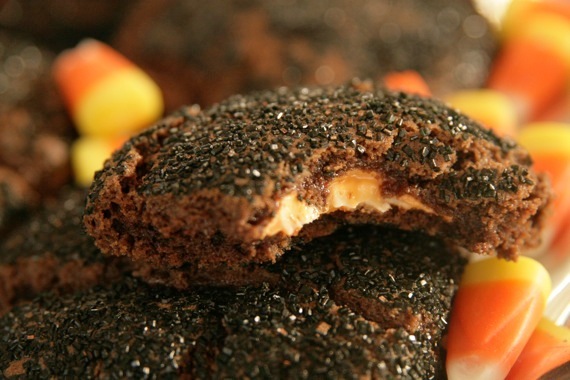 I hope everyone has a wonderful, safe and FUN Halloween!!! 🙂