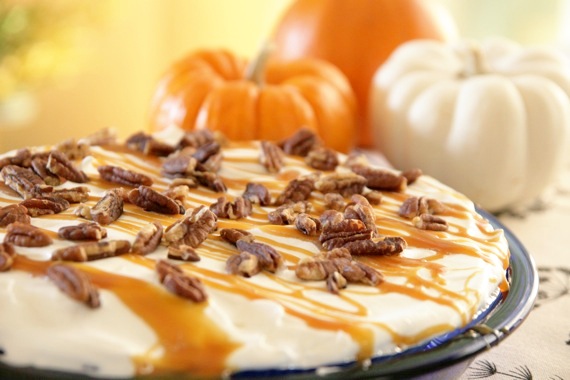 Let me start off by saying, this pie is delicious. Really, really delicious. Surprisingly delicious. After one taste, I sat there and finished off the entire slice before I was even finished photographing it! But before I go on any further, there's something you should know about this pie. Here's an email I recently received from a very, very sweet reader:
Amy,  I'm one of your faithful followers and would like to make a request of you.  We just recently found out that my dad is suffering from Multiple Myeloma (a cancer of the blood) and one of the side effects is diabetes.  My dad loves his sweets and it's been a little hard for him to make such a drastic adjustment to his diet. I would like to make him a tasty dessert that he would not believe was diabetic friendly.  So now my request; sometime in the future could you post a diabetic recipe that I could make for my dad?  I know that I can probably find literally thousands of recipes on the internet, but they wouldn't have the thought and love put into them.  Plus, if you make it and post it I know it will be AWESOME! Thanks so much for all the care you put into your blog.  You are a very special person.  Thanks again, Sheila
After reading Sheila's touching email, there was absolutely NO way I was going to disappoint her. I immediately set out to find the most delicious, satisfying, 'never-know-it's-sugar-free' recipe. That's right. This pie is diabetic-friendly. And I am proud to say….YOU'D NEVER KNOW IT. After getting Sheila's email, I emailed my Aunt Josie and got her best sugar-free recipe. My cousin Travis has diabetes, so Aunt Josie is a rockstar when it comes to flavorful, sugar-free cooking/baking. This pie is her favorite and now I can see why! It's super easy, takes literally no time to put together and the pumpkin and spices really shine! What a crowd-pleaser! And just in time for Thanksgiving! So Sheila, I really hope your dad enjoys this pie…I sure enjoyed making it for you!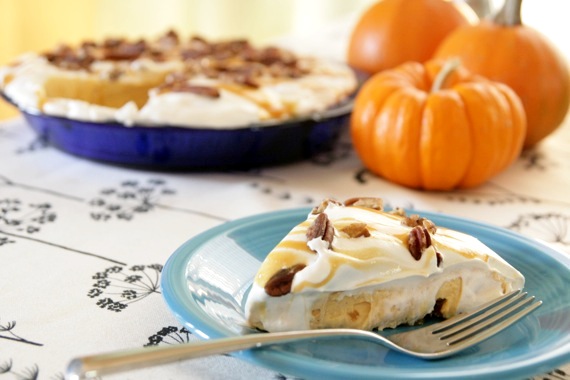 No-Bake Turtle Pumpkin Pie
-my Aunt Josie's recipe
1/4 cup plus 2 tablespoons sugar free caramel ice cream topping, divided
1 graham cracker pie crust
1/2 cup plus 2 tablespoons pecan pieces, divided
1 cup cold 1% milk
2 packages (4-serving size) vanilla sugar-free, fat-free instant pudding
1 cup canned pumpkin
1 teaspoon ground cinnamon
1/4 teaspoon ground nutmeg
1/4 teaspoon ground cloves
1 tub (8 ounce) light whipped topping, thawed, divided
Pour 1/4 cup caramel topping into crust; sprinkle with 1/2 cup pecans.
Beat milk, pudding mixes, pumpkin, and spices with whisk until blended. Gently fold in 1 1/2 cup whipped topping. Spread into crust.
Refrigerate at least 1 hour. Top with remaining whipped topping and 2 tablespoons pecans. Drizzle with remaining 2 tablespoons caramel topping.
Nutritional analysis: (per one slice)
Calories – 165
Fiber – 2.7
Protein – 2
Total fat – 7
Carbohydrate – 23
**Josie notes that this pie is still a little high in carbs. So you might not want to go crazy and eat the whole thing yourself. 😉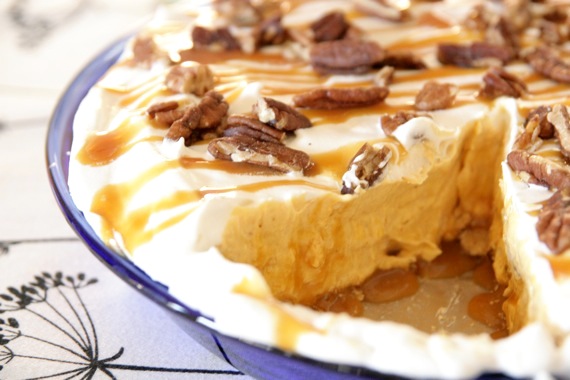 Mmm, just look at all that caramel oozing out…..*drool* Sheila, I sincerely hope this recipe makes your dad happy! And thank you for challenging me to try something outside of my comfort zone. I'm proud to say this is my very first diabetic-friendly recipe on Sing For Your Supper; hopefully there will be many more to come! Happy baking!