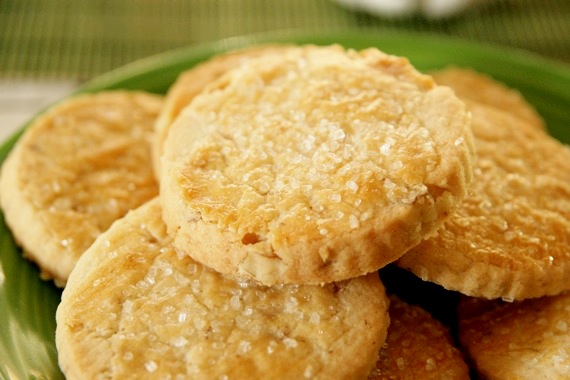 Listen up, dear readers, because I'm going to tell you how to be the most popular guy at work: bring cookies. Often. Think about it- everybody's face immediately lights up when you announce, "I brought cookies!", then they 'ooh and ahh' and talk about how delicious they are. Yep, nothing brightens up your co-workers' work days like a fresh, homemade cookie. Cookies like these! I found these in Martha Stewart's 'Cookies' and was intrigued by the use of maple syrup (I've really been into maple flavored treats lately!). They're so crisp and delicious- my coworkers really, really enjoyed them! The coarse sugar on the top really adds an extra special touch, I think. These would be great after dinner with coffee or a hot cup of tea. Very delicate and all-around tasty.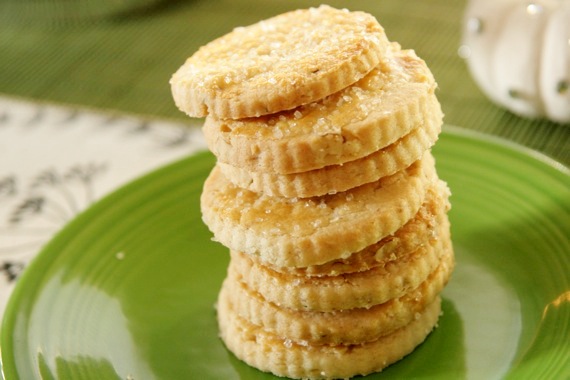 Maple-Walnut Shortbread
-slightly adapted from Martha Stewart Cookies
2 1/4 cups all-purpose flour, plus more for work surface
1/2 cup cake flour (not self-rising)
1/2 teaspoon salt
3/4 cup walnuts (about 2 1/4 ounces), finely chopped
1 cup (2 sticks) unsalted butter, room temperature
3/4 cup granulated sugar
1/4 cup pure maple syrup
1 large egg yolk
1 large egg, lightly beaten
coarse sugar, for sprinkling
Into a medium bowl, sift flours and salt. Whisk in 1/2 cup chopped walnuts, set aside.
In the bowl of an electric mixer fitted with the paddle attachment, cream butter and granulated sugar on medium-high speed until smooth and light, about one minute. Add the maple syrup and egg yolk; beat on medium speed until well combined. On low speed, gradually add flour mixture, beating until just combined. Dough should be smooth and pliable. Flatten into a disk. Wrap in plastic; chill until firm, 1 1/2 hours or overnight.
Preheat oven to 350 degrees. Line baking sheet with parchment paper.
On a lightly floured work surface, roll out dough to 1/4 inch thick. Cut out rounds using a two-inch cookie cutter; place one inch apart on prepared baking sheet. Brush tops with beaten egg and sprinkle the entire surface with coarse sugar.
Bake cookies, rotating baking sheet halfway through, until golden around the edges, 10 to 12 minutes. Transfer to a wire rack to cool. Store in airtight containers at room temperature up to four days. Makes approximately 2 dozen.