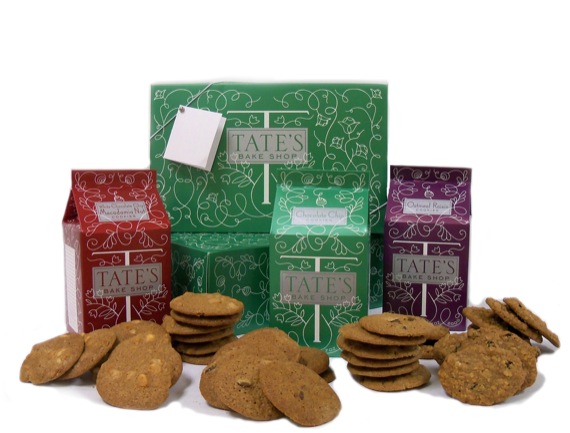 See these sweet, crispy, yummy looking cookies?? These aren't any regular cookies- they're Tate's Bake Shop cookies! Maybe you've heard of Tate's (they're only the best bakery in Southampton!) and maybe you haven't- but I can assure you, they have an amazing reputation (many claim that Kathleen's chocolate chip cookies are the best out there!). They've been featured in the Wall Street Journal, New York Times, Washington Post and many more. So when I received an email from Elizabeth, asking if I'd be interested in trying out some of their cookies and reviewing the Tate's cookbook, I didn't hesitate before emailing back, "YES!"! In no time, I had a gorgeous package of 3 kinds of delicious cookies and a Tate's Bake Shop cookbook signed by Kathleen herself! Sweet!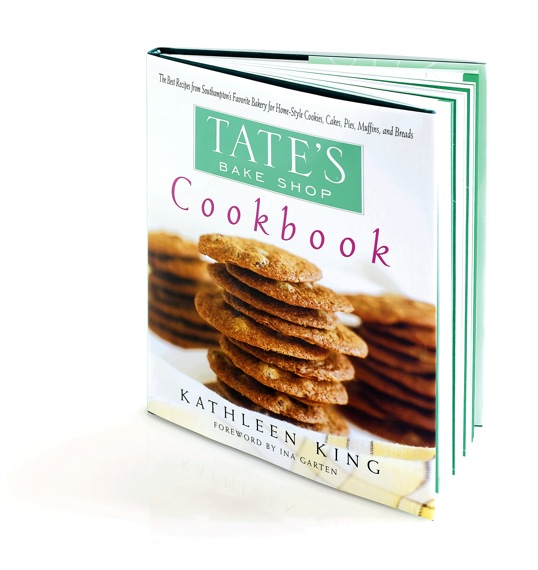 As soon as I got my package, it took me about .8 seconds to rip into it and sample those chocolate chip cookies right away (in fact, I'd be lying if I said I wasn't munching on what's left of them right now….mmm), and let me tell you- these are delicious! Probably the best crispy cookie I've ever had! I've already blown through the cookbook and found some amazing sounding recipes I absolutely can't wait to try! The ones that really jumped out at me were the Hummingbird Cake, Apricot Pie, and Nutella Shortbread Sandwich Cookies to name a few (I mean really, don't those sound amazing?!), and I can tell you Kathleen's Pumpkin Pie will most definitely be on my Thanksgiving table this year!
But you know the best part about all this??? I have a sweet package for YOU!! That's right, Tate's wants to send you the exact package of goodies they sent me- 3 kinds of homemade, delicious cookies (chocolate chip, oatmeal raisin and white chocolate macadamia nut!) and a shiny new Tate's Bake Shop cookbook (with a foreward by Ina Garten!)! Aren't you excited??!!
All you have to do to enter is leave me a comment answering this question: What are you most thankful for this Thanksgiving season? (**Earn an extra entry by becoming a fan of Tate's Facebook fan page– just leave me a separate comment telling me you've done so)
You'll have until midnight Friday, November 26th to enter, then I'll pick one winner randomly and announce on Saturday. And if you aren't the lucky winner, don't worry- all Sing For Your Supper readers will receive %15 off any tatesbakeshop.com purchase now through December 15, 2010 using the coupon code: cookie. I highly recommend the chocolate chip cookies. 😉
Good luck to you all! This is an amazing package and I'm thrilled to add Kathleen King's brilliant cookbook to my shelf!