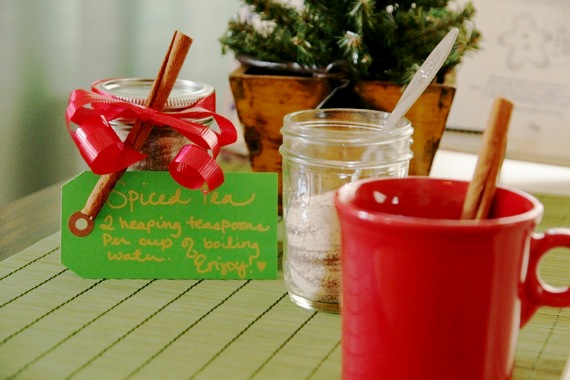 I'm a big fan of homemade gifts. Mainly because I enjoy food and drink so much, I guess I just expect everyone else to as well (that's not always the case, but nevertheless, if you're friends of ours, you can bet your gift will be edible). 😉 My mom makes this spiced tea every year at Christmas and it's just scrumptious. Really. There's nothing more comforting than sipping a big cup of this while watching a Christmas movie, and I imagine it would be perfect after an afternoon of playing out in the snow….just a guess, seeing as how we don't get much snow 'round these here parts!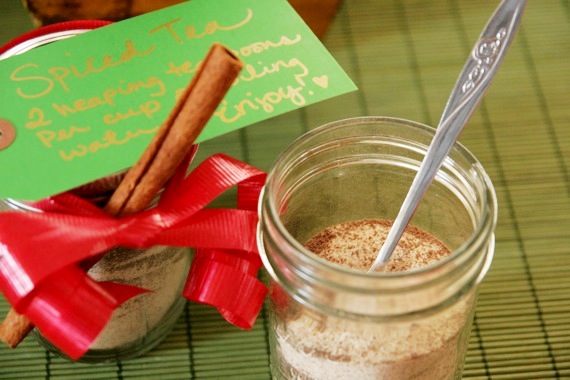 As luck would have it, this recipe makes a very large amount, so there's plenty to go around! It looks great in glass jars with a little ribbon or even cute little gift bags. Pretty much everyone who's ever tasted this loves it- my father-in-law especially! It really is the perfect gift!
Holiday Spiced Tea
-I think this recipe has probably been around a very long time, but I got it from my mother, who got it from Baba many Christmases ago!
1 cup instant tea (unsweetened)
2 cups Tang (or any powdered orange drink- just NOT Gatorade)
1 1/2 cups sugar
1 1/2 teaspoons cinnamon
1/2 teaspoon cloves
Stir all ingredients together in a large bowl.
To serve: stir in 2 rounded teaspoons for every cup of boiling water. Enjoy!