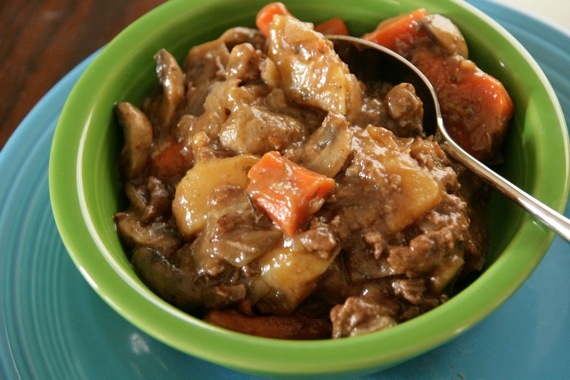 Well, Christmas is over (sad…) and I hope that everyone enjoyed a safe, happy and joyous time with friends and family. We certainly did! It would have been just about perfect except I caught a terrible 24 hour stomach bug that's been going around and it really put a damper on our Christmas Day- no worries though, we still had a wonderful, joyous holiday! My sweet, thoughtful husband put 4 kinds of aged cheese in my stocking this year, along with a BIG bottle of Mexican vanilla! He also got me a new set of pots and pans- bye-bye 4 year old, scratched up non-stick pans! Woo!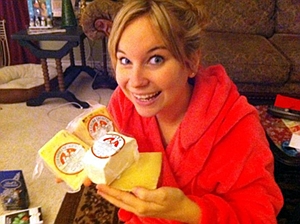 But now, it's back to blogging and I'm so excited to share this stew with you! The weather is cold and rainy here (and blizzard-y pretty much everywhere else in the US!), so we need a good, hearty stew that will help to melt away the cold! This one is absolutely delicious- I saw it on Jamie's blog, My Baking Addiction and was intrigued by the use of A-1 sauce, so I immediately made it. Normally when I make stew I like lots of liquid, so I guess technically what I've always made is 'soup'. After trying this one, I'm not sure I'll ever go back! It really exceeded my expectations and I can't wait to make it again.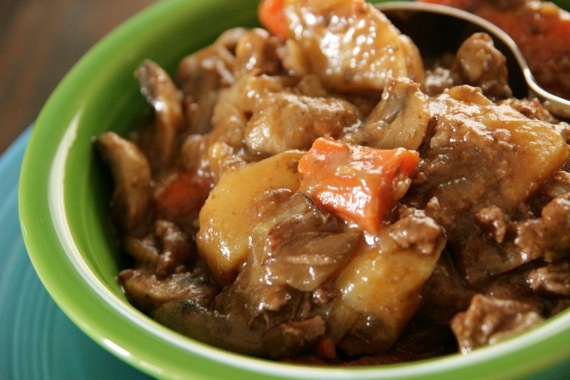 Thick and Hearty Beef Stew
-adapted from My Baking Addiction
1/4 cup flour
2 pounds beef stew meat, cubed
2 tablespoons olive oil
1/2 cup red wine
4 cups beef broth (I like to use reduced sodium)
1 teaspoon dried parsley
salt and pepper to taste
3 large potatoes, peeled and cut into large chunks
4 or 5 large carrots, peeled and cut into chunks
9 or 10 cremini mushrooms, cut into quarters
1 large onion, roughly chopped
1/2 tablespoon Worcestershire sauce
1 1/2 tablespoons ketchup
1 tablespoon A-1 steak sauce
Toss the beef and flour in a bowl until the beef is coated. Heat the olive oil in a large dutch oven over medium heat; add the beef and cook until nicely browned. Set aside.
Deglaze pot with red wine, scraping up the brown bits from the bottom of the pot. Pour in the beef broth and add in the beef, parsley, salt and pepper. Bring to a boil, then reduce heat to low, cover and simmer 1 hour.
Stir in potatoes, carrots, mushrooms, onion, Worcestershire, ketchup and A-1. Cover and simmer 1 hour more.