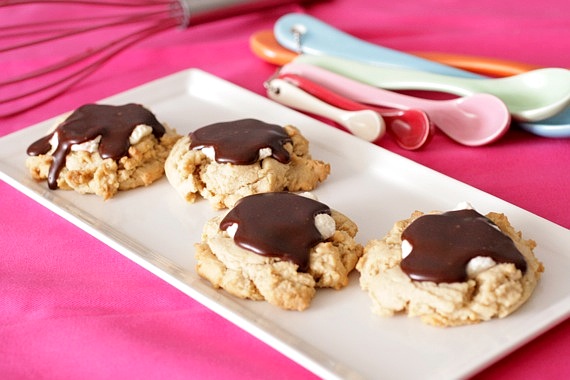 I told you I had something really sinful planned for those peanut butter cookies! Come on, you didn't think me, of all people, would be able to leave those delicious peanut butter cookies alone, did you?! Of course not! I decided it would be a good idea to top them with gooey, sticky marshmallows and a healthy glob of chocolate. 🙂 Much better! I made all the cookies at the same time (the plain peanut butter ones and the chocolaty-marshmallowy ones), then sent them both to work with hubby the next day. He said the chocolaty ones disappeared before 10AM! Success! Even my own hubby, who doesn't really care for sweets all that much couldn't keep his hands off these! I gave it a lot of thought and decided to call these "Fluffernutter Chocolate Gobs"- it just felt right.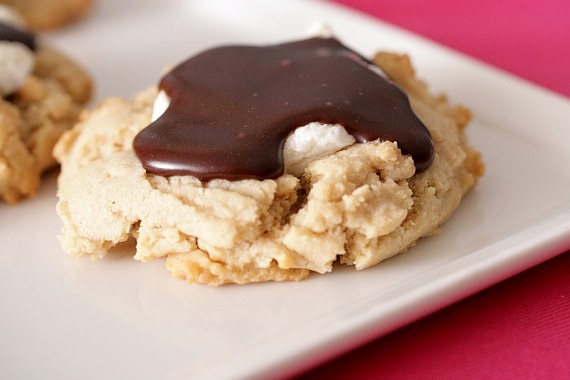 So, if you're a fan of peanut butter + marshmallow + chocolate….these are your dream come true! Heck, if you're a fan of ANY kind of sweets at all, these are your dream come true!
Fluffernutter Chocolate Gobs
-my own evil, delicious thought
1 batch of peanut butter cookie dough (recipe follows)
mini marshmallows
chocolate glaze (recipe follows)
Soft and Crumbly Peanut Butter Cookies
-adapted from allrecipes.com
1/2 cup (1 stick) unsalted butter, softened
3/4 cup peanut butter
1/2 cup white sugar
1/2 cup packed brown sugar
1 egg
1 teaspoon vanilla extract
3/4 teaspoon baking soda
1/2 teaspoon salt
1 3/4 cups all-purpose flour
Combine the flour, baking soda and salt in a bowl, set aside.
In the bowl of a stand mixer or with a hand mixer, beat the butter, peanut butter and sugars for 2 minutes, until light and fluffy. Add in the egg and vanilla.
Gradually add in the flour mixture on low speed. Chill dough 15 minutes in the refrigerator.
Place by rounded spoonfuls on a cookie sheet lined with parchment paper and bake in a preheated 350 degree oven for 7-9 minutes, until edges are very lightly browned (cookies will not spread much at all). Do not overbake.
*Makes approximately 2 dozen cookies
Chocolate Glaze
-my own recipe
3 tablespoons butter
2 tablespoons cocoa powder
1/2 cup powdered sugar, sifted
1/2 teaspoon vanilla extract
1-2 tablespoons milk, depending on how thick you want it
In a small sauce pan, melt the butter over medium heat. Stir in the cocoa powder and mix until smooth. Remove from heat and add in the vanilla.
Slowly stir in the powdered sugar, gradually adding the milk as needed to get it to the desired consistency (you want it thin enough to drizzle, but thick enough that it won't run all over- a little thicker than molasses).
To assemble the cookies:
As soon as the peanut butter cookies come out of the oven, place 3-4 mini marshmallows on the top of each cookie (you may need to flatten the cookies slightly with a spatula first). Place them back in the oven for 2-3 minutes, until the marshmallows are melted. Let cool completely.
When completely cooled, spoon a small amount of chocolate glaze over the top of each cookie. Glaze will set slightly upon cooling.