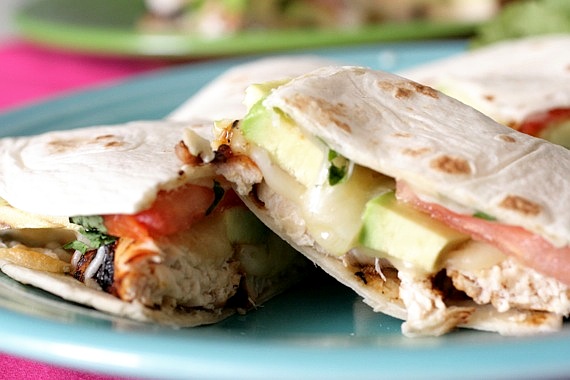 I really love quesadillas. They're so versatile- you can just throw in whatever you have on hand for a delicious meal! Have leftover grilled chicken? Throw it in! That's the beauty of quesadillas; they transform ordinary leftovers into a whole new meal! However, the ingredients I used for these quesadillas were definitely not leftovers- I specifically bought them with this recipe in mind because I just couldn't wait to try them! It wasn't very cold outside, so I had Joel grill up some chicken breasts lightly brushed with barbecue sauce, then I sliced them thinly and paired them with sliced tomatoes, avocados, Monterrey Jack cheese and a little cilantro- WOW, what a quick, delicious meal! These were so good, I made them again the following night! I served them with some oven baked sweet potato fries and it was the perfect meal. One I'll be making on a regular basis.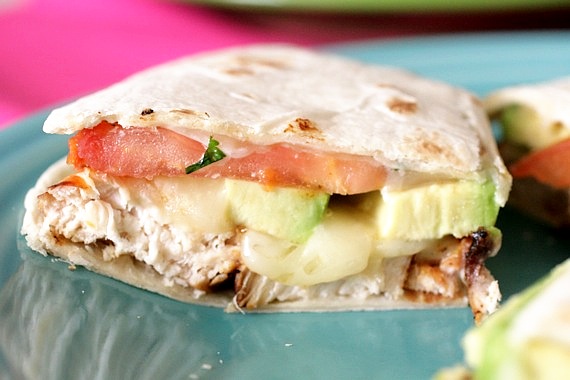 Chicken, Avocado and Tomato Quesadillas
-my own recipe
4 flour tortillas
2 boneless, skinless chicken breasts
barbecue sauce, for brushing
salt and pepper
1 avocado, thinly sliced
1 tomato, thinly sliced
1/2-3/4 cup Monterrey Jack cheese (depending on how cheesy you like them)
1/4 cup fresh cilantro, chopped
Season chicken breasts with salt and pepper, then brush with barbecue sauce and grill over medium-high heat, until fully cooked (approximately 6 minutes on each side). Remove from grill and let rest for 5 minutes. Slice into thin strips.
Preheat oven to 375 degrees.
Place two of the tortillas on a baking sheet and top each with half of the cheese. Top with the chicken, then sliced avocado and tomato. Sprinkle the remainder of the cheese and the cilantro. Place the other two tortillas on top. Brush the outer edges with a little water to keep them from turning up during baking (you can even do this with your finger).
Bake for approximately 6-8 minutes, until cheese is fully melted. Cut into quarters and serve.
Serves 2.