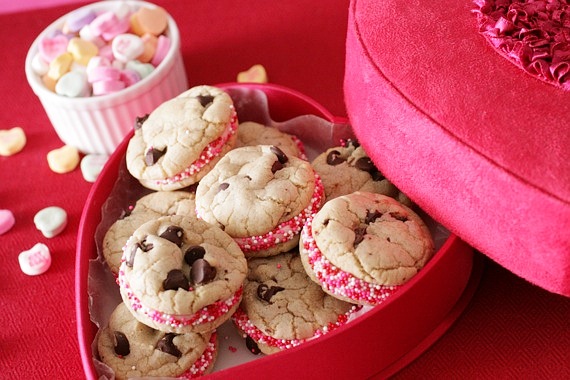 YIPPEE! Valentine's Day is just around the corner and I can't wait! I think Valentine's Day is probably one of my very favorite holidays; it's one we don't have to stress over or share with family- it belongs to just the two of us and I LOVE that! We always have the most fun…just staying at home cooking together, sharing a few glasses of champagne…I look forward to it year round! This year, I'm almost afraid to tell you what we're doing because I don't want to jinx it! We're…….making sushi. Together. At home. Yikes. This could be very, very interesting! Good thing I have a plan B (frozen pizza, anyone?)!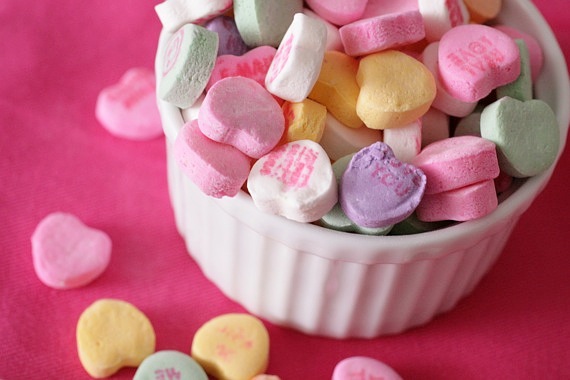 (Don't you just love how I took this great close up shot…….of the only two hearts that have gibberish on them?! *sigh* That's what I get for buying cheap Valentine's candy…)
Anyway, with Valentine's Day being so special to us, I wanted to share a few Valentine-friendly recipes with all of you beforehand, in case you need some fun ideas for your sweetie! These adorable little cookie sandwiches are SO easy, but so pleasing to the eye and soooo delicious! Who can resist chewy chocolate chip cookies with pink buttercream sandwiched in the middle?! Not me! Or my hubby! I used my favorite chocolate chip cookie recipe and my old standby buttercream- what a great combination! Try these out this Valentine's Day; your sweetheart will love them!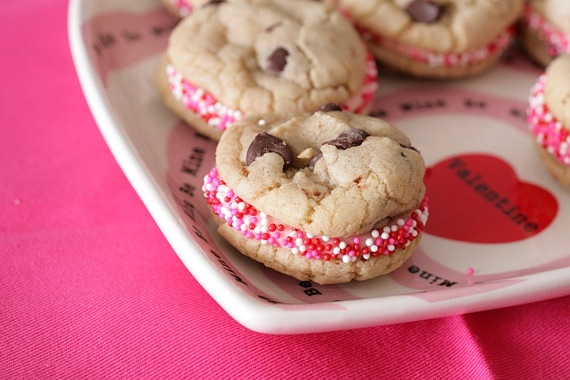 Mini Chocolate Chip Cookie Sandwiches
For the cookies:
2 cups all-purpose flour
1/2 teaspoon baking soda
1/2 teaspoon salt
3/4 cup unsalted butter (1 1/2 sticks), melted
1 cup packed brown sugar
1/2 cup white sugar
1 tablespoon vanilla extract
1 large egg
1 large egg yolk
1 1/2 cups semisweet chocolate chips
Preheat the oven to 325 degrees. Sift together the flour, baking soda and salt; set aside.
In a medium bowl, cream together the melted butter, brown sugar and white sugar until well blended. Beat in the vanilla, egg, and egg yolk until light and creamy. Mix in the sifted ingredients until just blended. Stir in the chocolate chips by hand using a wooden spoon.
Scoop out cookie dough and roll into small 1-inch balls (a little smaller than the size of a walnut) onto the prepared cookie sheets.
Bake for 7-8 minutes in the preheated oven, or until the edges are lightly toasted. Cool on baking sheets for a few minutes before transferring to wire racks to cool completely.
For the buttercream:
1 stick butter, at room temperature
3-4 cups powdered sugar
2-3 tablespoons milk
1 teaspoon vanilla
Place the butter in a large mixing bowl. Add 1 cup of the powdered sugar, 1 tablespoon of the milk, and the vanilla. On medium speed of an electric mixer, beat until smooth and creamy, about 3-5 minutes. Gradually add the remaining sugar, 1 cup at a time, and more milk as needed, beating well after each addition (about 2 minutes), until the icing is thick enough to be of good spreading or piping consistency. You may not need to add all of the sugar or milk. Stir in any food coloring at this point, if desired. Refrigerate until needed.
To assemble:
Place your colored sprinkles in a shallow bowl or pie plate. When the cookies are cooled, either spread or pipe (I used a Wilton 2A round tip- you could also just use a ziploc bag with the tip cut off) a generous amount of frosting on the bottom of half the cookies. Place the remaining cookies on top and gently roll the sides in the sprinkles. Refrigerate until ready to serve. You'll want to let them sit at out room temperature for at least 20-30 minutes before serving, so the cookies and frosting will soften a little. Enjoy! Makes approximately 25 sandwiches.
Recipe sources: cookies- allrecipes.com; buttercream- adapted from Magnolia Bakery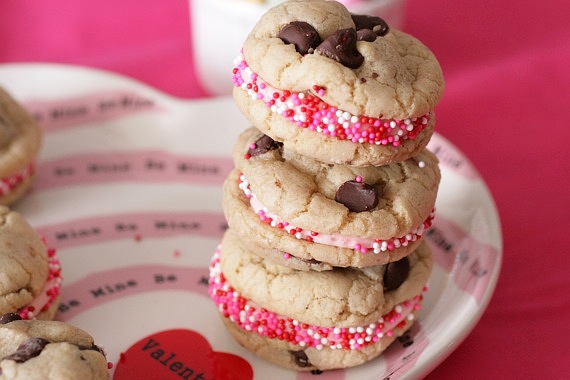 Whatever you decide to do for Valentine's Day this year, I hope it's extra sweet! xoxo