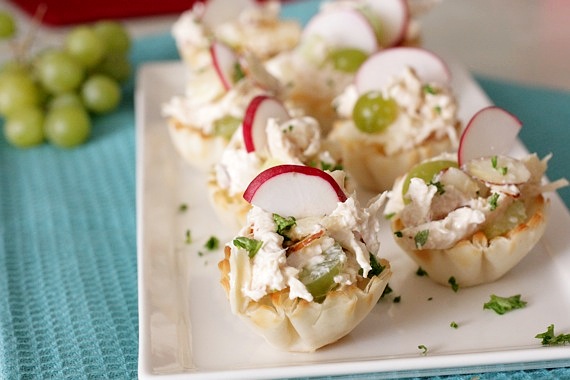 When you think of baby showers or wedding showers, tell me, what's the first food you think of? For me, it's chicken salad, no doubt. I don't know what it is about chicken salad, but it seems to be the honorary queen mother of shower food. Which is just fine by me, I adore chicken salad. Especially chicken salad with grapes and crunchy almonds….mmm. So naturally, when I was invited to take part in a little virtual baby shower for our fellow food blogging friend Annie, chicken salad was the very first thing to pop into my head! And to make it more accessible and "mingle-friendly", I decided chicken salad bites would be perfect.
Annie will be having a sweet baby girl (little Caroline; What a sweet name!) in just a short while, and to show our support, a bunch of us bloggers are throwing her a virtual shower- how cool is that (and stay tuned, because I'm hosting a little shindig of my own in a few weeks!)?! My good friend Courtney, of Cook Like A Champion is our gracious shower hostess- she and Annie will have the entire round-up posted on their blogs, so be sure to head over for some beautiful dishes by a group of very talented bloggers!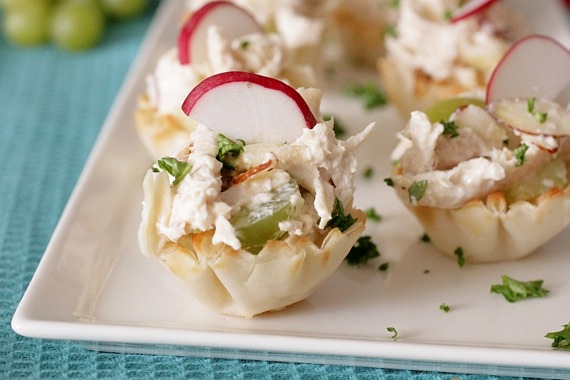 Now, onto these chicken salad bites! I love a good crunch in my chicken salad, so this is full of crunchy sliced almonds and celery. There's also green grapes and pineapple, and let me tell you, the pineapple really adds a delicious sweetness and flavor that compliments the chicken perfectly! The sauce is made up of non-fat yogurt and mayonnaise, so it's a little lower in fat than most chicken salads. The salad sits in crisp little phyllo cups, which gives great texture and makes them easy to eat. Simply stated: this is really an easy, delicious dish to put together and it's just perfect for parties (or showers!). 🙂 Don't forget to head over to Courtney and Annie's blogs to see everyone else's beautiful dishes! Happy baby shower, Annie! Congratulations to you and your sweet little family!
Chicken Salad Bites
30 baked phyllo cups (you can find these in the freezer section of the grocery store- they usually come in packs of 15)
3 bone-in, skin-on chicken breasts
2 stalks celery, chopped
1 small can pineapple chunks (crushed would be fine as well)
handful green grapes, sliced into halves
1/2 cup sliced almonds
1/4 cup mayonnaise
1/2 cup plain, non-fat yogurt
1 squirt lemon juice
salt and pepper, to taste
parsley and thinly sliced radishes, for garnish, if desired
Place the chicken breasts in a large pot and fill with enough water to cover the tops. Boil on medium heat for approximately 1 1/2- 2 hours, until chicken is very tender. Remove the chicken and let cool.
Once the chicken is cool, remove the meat from the skin and bones and shred into small pieces. Place in a large bowl. Add in celery, pineapple, grapes and almonds.
In a small bowl, make the sauce. Stir together the mayonnaise, yogurt and lemon juice. Season with salt and pepper. Pour over the chicken mixture and stir until combined. Taste for seasoning.
If serving immediately, place a small amount of chicken salad in each phyllo cup. Garnish with chopped fresh parsley and thinly sliced radishes (optional).
If you're making the salad ahead of time, keep it refrigerated until ready to serve. Don't assemble the bites until right before serving, as the cups will get soggy.
Makes 30 cups.
Recipe source: Sing For Your Supper