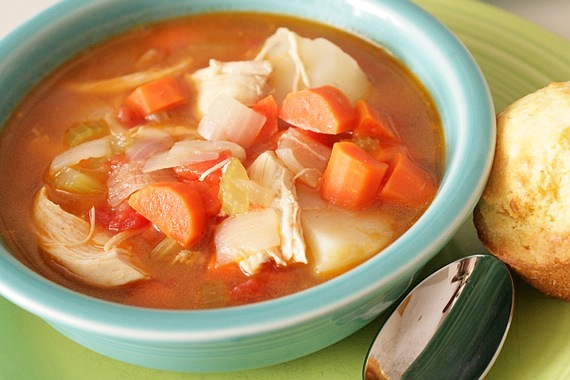 Um, it's been cold. Really bad, snowy, icy, power outages, school-closed-for-4-days COLD. But I probably don't have to tell you that. Most likely, it's been the same story where you are too (unless you live in California or someplace delightful and sunny, in which case…I hate you.). In fact, as I'm sitting here typing this, cars are slipping and sliding down my icy street. Weather like that can only mean one thing- warm, hearty chicken stew. It's the easiest stew in the world to make and it requires very few ingredients. This is how my mom always made it and I just love it. In fact, not too long ago I was visiting my parents and my mom served me this stew for lunch- big chunks of potatoes, carrots and tender juicy chicken all simply seasoned with salt and pepper. This is the best kind of cold weather food! All you need is some good crusty bread or cornbread muffins to go with it and you've got a hearty, delicious meal!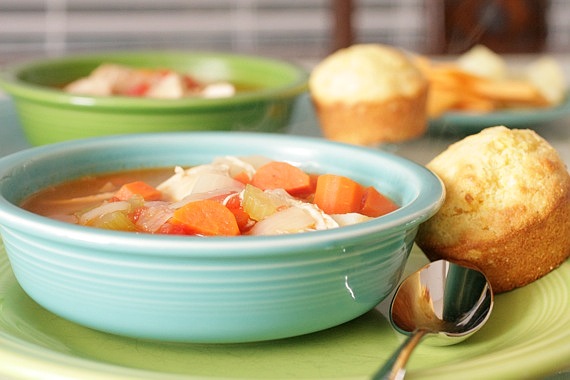 My Mom's Chicken Stew
3 bone-in chicken breasts
5 carrots, peeled and chopped
5 or 6 small potatoes (or 2 or 3 medium sized), cut into chunks
1 medium onion, chopped
2 celery stalks, chopped
1 14-ounce can diced tomatoes
salt and pepper
Place the chicken in a large pot and fill with enough water to cover. Boil the chicken for 1 1/2 – 2 hours, or until very tender.
Remove chicken from pot (save the broth- you'll use that later!) and let cool. Remove the skin and bones and shred chicken (I like it in pretty large chunks).
Put the pot with the chicken broth back on medium heat and add in the chopped onion, carrot, celery, tomatoes and salt and pepper (depending on how thin you like your stew you can add a little water if needed). Cook for 15-20 minutes, until the vegetables are just about tender. Add in the potatoes and chicken and cook for another 15-20 minutes, until the potatoes are soft. Check for seasoning. Serve hot with crusty bread or cornbread muffins. Enjoy!
Serves 4-6 (also makes great leftovers!)
Recipe source: Sing For Your Supper's mom 🙂