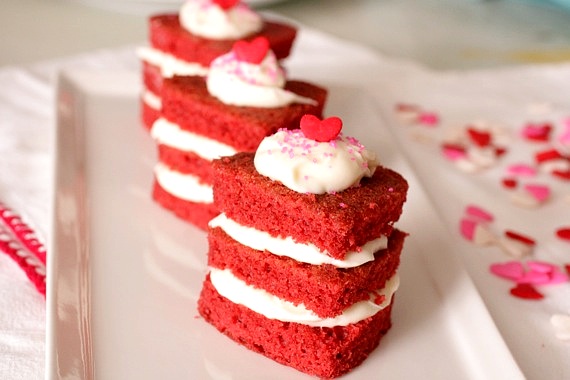 I'm actually not the world's biggest fan of red velvet cake. Never have really seen the big deal. However, lately I've been craving it like crazy! I guess because so may delicious looking red velvet recipes have been popping up all over the blogosphere lately. I guess February is definitely a red velvet kind of month. A year or so ago, I copied down my great-grandmother's recipe for red velvet cake and have been wanting to try it ever since. I figured now would be as good a time as any, then my friend Kelsey recommended I try her recipe- in fact, her exact words were, "try my recipe- I dare you not to love it." Well, how can I resist THAT?! And luckily, upon comparing the two recipes, I found that Kelsey's is almost identical to my great-grandmother's, with only a couple of very minor differences. Excellent!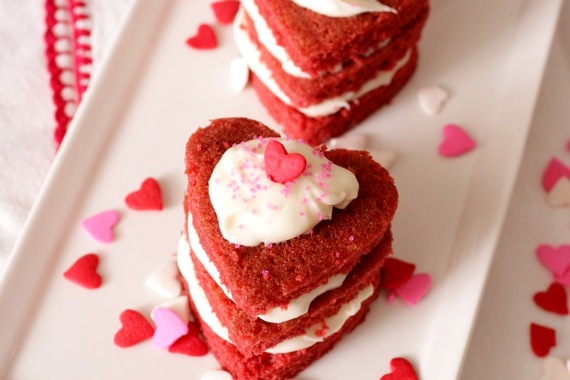 I didn't want to make a traditional cake (which is very unlike me, but I just decided to ride the wave…), and ended up baking the cake in a jelly roll pan. After baking and cooling I found myself looking at it thinking, "well….what the heck do I do now?!" I knew I wanted to somehow do something heart-shaped, for a Valentine's theme, but beyond that I was lacking inspiration. Lucky for me, my friend Leah suggested Napoleons. Perfect Leah, thanks! Napoleons (or Mille-feuille) are traditionally made with puff pastry and pastry creme, but I thought in honor of Valentine's Day a cute little red velvet cake Napoleon would be oh-so-fun! The red velvet cake turned out so delicious- especially with the tangy cream cheese frosting! These little guys were so much fun to make and so easy! A perfect little sweet treat for your sweetheart this Valentine's Day!
Red Velvet Cake Napoleons
For the cake:
2 1/2 cups cake flour
1 1/2 cups sugar
1 teaspoon baking soda
1 tablespoon cocoa powder
1 teaspoon salt
2 eggs
1 1/2 cups vegetable oil
1 cup buttermilk
2 tablespoons (1 oz.) red food coloring
1 teaspoon vanilla extract
1 teaspoon white distilled vinegar
For the frosting:
12 ounces cream cheese, softened
8 ounces butter (2 sticks), softened
1 1/2 teaspoons vanilla extract
3 cups confectioners' sugar
squirt of fresh lemon juice
For the cake:
Preheat oven to 350 degrees. Grease and line a jelly roll pan with parchment paper.
Sift together flour, sugar, baking soda, cocoa, and salt into a medium bowl.
Beat eggs, oil, buttermilk, food coloring, vanilla, and vinegar in a large bowl with an electric mixer until well combined. Add dry ingredients and beat until smooth, about 2 minutes.
Pour batter into the prepared pan and bake for 30-35 minutes, or until a toothpick inserted into the middle comes out clean. Let cool completely.
When the cake is cooled, flip it onto a large surface and peel the parchment paper off. Using a heart-shaped cookie cutter, cut out hearts and set aside. Using a serrated knife, slice each heart in half. Set aside while you make the frosting.
For the frosting:
Beat cream cheese, butter, vanilla and lemon juice together in a large bowl with an electric mixer until combined. Add sugar and beat until frosting is light and fluffy, 3-5 minutes (you'll end up with some left over).
To assemble:
Place a small amount of frosting on one of the hearts, place another heart on top, pressing down slightly, then more frosting; finally place one last heart on top and a dollop of frosting (that's 3 hearts total). Top with sprinkles, if desired. Repeat with the remaining hearts. I ended up with 14 Napoleons.
Recipe source: cake and frosting seen on Apple A Day, originally from Saveur.com