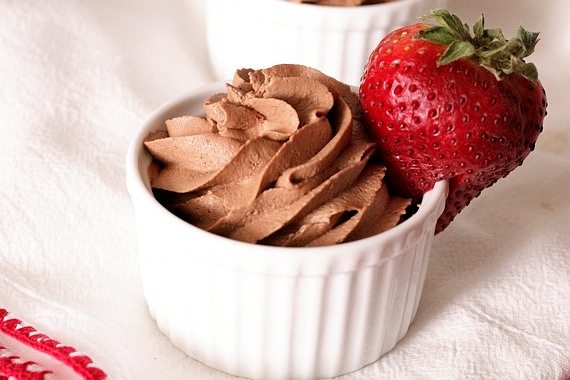 When I was a kid, my family used to go to this really nice seafood restaurant on special occasions. It was a huge buffet with crab legs, seafood gratins, pastas, fish, oysters, lobster tails and much, much more. It was a real treat. But the thing I cared about most on that buffet was always the chocolate mousse. I felt so grown up eating something out of a stemmed crystal glass. I would eat as much chocolate mousse as I could hold. It was silky smooth and oh-so luxurious – I absolutely loved it. Still do. Chocolate mousse has always been one of my very favorite desserts. Which is why I've had this recipe bookmarked for well over a year. For whatever reason I never got around to making my own chocolate mousse – then I saw this gorgeous recipe on Smitten Kitchen and knew I had to try it.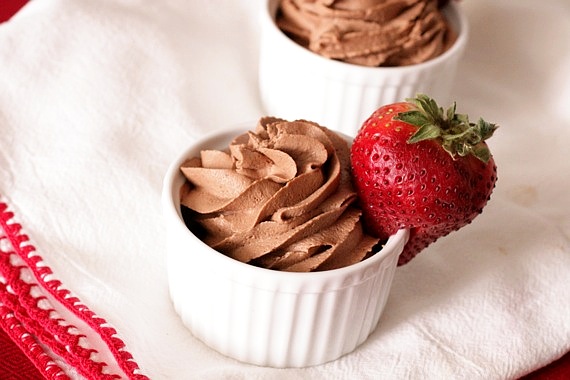 Deb describes this as "silky and decadent" and I could not agree more. The whipped egg yolks are what make this extra creamy and the whipped cream and beaten egg whites make it so light and fluffy it could almost float away. I'm being perfectly honest with you when I say this is the most delicious, luxurious chocolate mousse I've ever had in my whole life. An absolute dream.
Silky, Decadent Chocolate Mousse
8 ounces bittersweet chocolate (no more than 60% cacao), chopped
3/4 stick (3 ounces) unsalted butter, cut into 6 pieces
3 large eggs, separated
1 tablespoon Grand Marnier liqueur (or swap with a liqueur of your choice; yes, you can leave it out but it won't be as good)
1 cup very cold heavy or whipping cream
2 tablespoons sugar
1/2 teaspoon vanilla
1/8 teaspoon salt
Set a large, heat-proof bowl over a saucepan of barely simmering water and melt the chocolate and butter in it, gently stirring it until smooth. Remove from heat. Alternately, you can melt them in your microwave, stirring thoroughly at 30 seconds and every 15 seconds thereafter until the mixture is smooth.
Beat the egg yolks in the bowl of an electric mixer fitted with a whisk attachment until thick enough to form a ribbon that takes a few seconds to dissolve — this will take about two to four minutes to achieve. Whisk yolks into chocolate mixture along with Grand Marnier, then cool to warm.
Wash your mixing bowl and beat the heavy cream, sugar and vanilla until it just holds stiff peaks. Transfer to another bowl and set aside. Wash your mixing bowl again (I know it requires lots of washes for this recipe; alternatively you can just use a hand mixer and 3 different bowls).
Beat the egg whites and salt until they just hold soft peaks.
Fold the whipped cream and beaten whites into the chocolate mixture, gently but thoroughly. Transfer to 8 (4 ounce) ramekins or one large serving bowl, or go restaurant-style, serving it in stemmed glasses with white or dark chocolate shavings on top.
To make ahead: Mousse can be chilled, its surface covered with parchment paper, up to 2 days. Let stand at room temperature at least 30 minutes before serving.
Recipe source: slightly adapted from Smitten Kitchen, originally from Gourmet Magazine, October 2009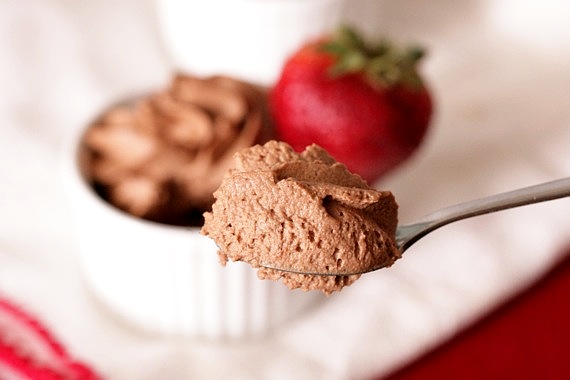 Lighter than air……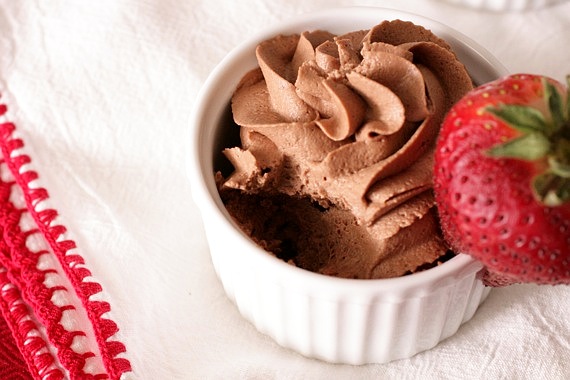 P.S. Happy, happy Valentine's Day! 🙂