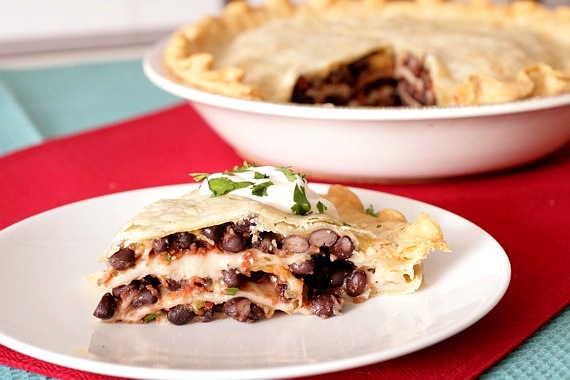 Here's another winning recipe from my sweet coworker, Janna. She hosted us all for a Christmas party this year and served ALL KINDS of delicious food- including this black bean pie. I have to admit, when she first told me about it, I was a little curious about the ingredients; I wasn't sure it sounded like something I'd like. However, after one taste, I was hooked! It's the easiest dish in the world to whip up- canned black beans, salsa, cheese, tortillas and pie crust- that's it! This is one of those perfect weeknight meals for when you need to feed your family in a hurry. It would be a new and fun alternative to "taco night"! It's delicious and we both love it! Thanks, Janna, for another delicious recipe!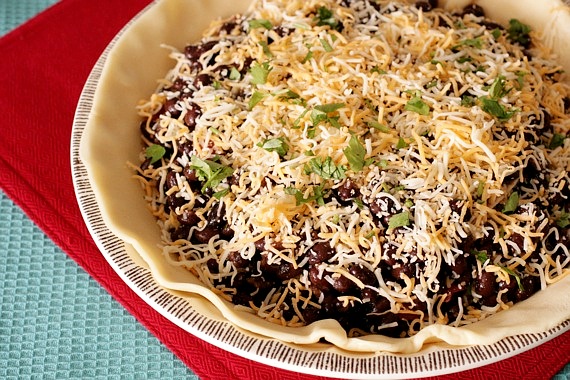 Black Bean Pie
2 9-inch pie crusts
2 cans black beans, drained and rinsed
1 cup salsa (your favorite store-bought brand or homemade)
3/4 cup shredded cheddar cheese
2 flour tortillas
cilantro (optional)
Preheat the oven to 350 degrees. Press one of the pie crusts in the bottom of a pie plate.
In a large bowl, combine the beans and salsa. Spread 1/3 of the mixture in the bottom of the pie plate. Top with 1/3 of the cheese and a sprinkling of cilantro, then one of the flour tortillas. Repeat with another 1/3 of the bean mixture, cheese and cilantro and tortilla. Finally, spread the last of the bean mixture, cheese and cilantro. Top with the 2nd pie crust and seal the edges. Make 4 small slits in the center of the crust with a small knife.
Bake for 30-40 minutes, or until crust is golden brown. Serve with sour cream and additional cilantro, if desired.
Recipe source: my friend Janna, who got it from her mother