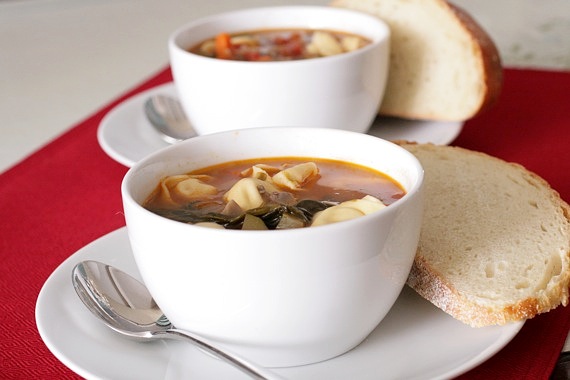 I just can't believe that with the many pots of soup I've made over the years, this hasn't been one of them. I mean, how could I discount such a delicious concept? Cheese-filled pasta in soup?! Brilliant! This couldn't have been easier to make and it's so hearty and filling. I really love all the chunky vegetables along with the soft, cheesy pasta…this was so delicious and comforting. All you need is a little crusty bread and you've got a delicious, healthy meal! And the leftovers are even better! I made this soup weeks ago during all the horrible, snowy weather we were having and it was comforting and so yummy! I'm so happy this thought popped into my head- we've discovered a new favorite!
Vegetable Tortellini Soup
2 tablespoons olive oil
1 small onion, chopped
1 clove garlic, minced
3 carrots, peeled and chopped
1/2 cup red wine
1 can diced tomatoes
1 medium zucchini, chopped
1 bunch fresh spinach, rinsed and roughly chopped
7-8 cremini mushrooms, cleaned and chopped
4 cups vegetable or chicken broth
1 package (12 oz.) cheese tortellini (found in the refrigerated section)
salt and pepper
In a large pot, heat the olive oil over medium-high heat. Add in the chopped onion and carrots. Cook for 5-7 minutes, until vegetables are starting to soften, then add in the garlic and cook for 1 minute more. Stir in the wine and scrape off any bits from the bottom of the pan. Add in the tomatoes, zucchini, salt and pepper and broth; bring to a boil then reduce heat and cook for about 20 minutes, until all the vegetables are soft. Stir in the fresh spinach, mushrooms and tortellini. Cook for 15 minutes more. Serves 4.
Recipe source: Sing For Your Supper