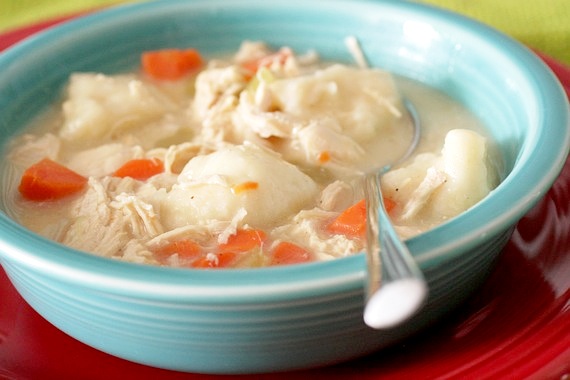 You've seen these chicken and dumplings here before. In fact, according to my StatPress, it's one of the most searched for items on my blog. Funny, isn't it? I guess people really appreciate recipes with good shortcuts! I have to be honest- this really is a truly delicious, easy, family-pleasing recipe; but it's been buried in my archives for almost 2 years now (with some really, really bad pictures). I think it needs a little freshening up, don't you? So here it is, the same great recipe, re-shot and re-submitted for your approval!
"Cheater" Chicken and Dumplings
1/4 cup olive oil
4 boneless, skinless chicken breasts
1 medium onion, diced
2 cups diced carrots
1 cup diced celery
1 cup dry white wine
1/2 tablespoon salt (plus more to taste)
1/2 tablespoon fresh ground pepper (plus more to taste)
6 cups chicken stock
5 frozen biscuits (such as Pillsbury Grands Frozen Biscuits), thawed enough to cut into pieces
Pat the chicken dry and season with salt and pepper. Heat half of the olive oil (1/8 cup) in a large pot or Dutch oven over medium-high heat. Sear the chicken, turning the pieces so that all sides are slightly brown, about 3 to 4 minutes for each side. Remove the chicken pieces and place on a paper towel-lined plate. Add the remaining 1/8 cup of olive oil to the pot, along with the onions. Saute the onions until they're soft, about 6 minutes. Add the carrots, celery, and white wine. Scrape up any brown bits from the bottom of the pot. Saute, stirring frequently, for another 6 minutes. Add the chicken back to the pot. Cover the meat and vegetables with chicken stock. Bring to a boil. Reduce heat to medium-low and simmer, partially covered, for 90 minutes. (This step is especially flexible. If your liquid is reducing too much, you may need to add more chicken stock. If the dish is too liquidy, turn up the heat and to reduce the stock more. The idea is to end up with a consistency of a very thick stew.)  If the broth is not as thick as you would like, remove one cup of the broth into a measuring cup and whisk in 1 tablespoon of corn starch. Return the broth to the pot and stir.  Remove chicken pieces with tongs and allow them to cool. Shred into small pieces. Return to the pot.  Cut the frozen biscuits into thirds. Drop the pieces onto the top of the chicken and vegetable mixture. Cover and cook on medium-low heat for 8-10 minutes, until the dumplings are cooked through. Serve immediately.
**Alternatively, you can cook your chicken in a crockpot, shred it, then add it in with the vegetable/wine/broth mixture. If you do this, you won't need to simmer everything for 90 minutes- 20 or 30 would be plenty- just long enough to cook the vegetables until soft. This is what I've always done and it comes out perfect everytime!
Recipe source: adapted from The Bitten Word