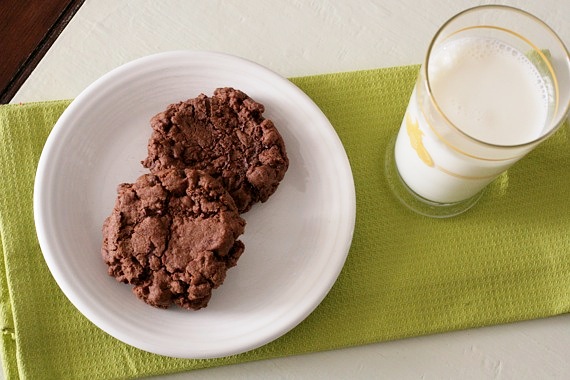 Are you ready for a chocolate explosion in your mouth?! These big, fat, gooey, chocolaty cookies are just that- an explosion of chocolate awesomeness. Annie posted these awhile back and I immediately thought, "oh, please let me have all the ingredients to make these cookies!" Sure enough, these are the BEST kind of cookies- the kind that require very few ingredients, all of which you most likely already have in your pantry/fridge! I LOVE cookies like that! The dough takes no time to throw together (and tastes AMAZING- seriously. I'm not a huge raw cookie dough eater, but this dough was irresistible!), and the cookies themselves are just melt-in-your-mouth delicious. I highly recommend these – they'll satisfy any emergency chocolate craving in less than 20 minutes, and they'd also be wonderful for parties, get-togethers or after school snacks. Or co-workers. Mine couldn't leave these alone; we all kept taking turns microwaving ours for a few seconds for optimum gooeyness. That's a must, by the way. These cookies are best when warm- WITH milk!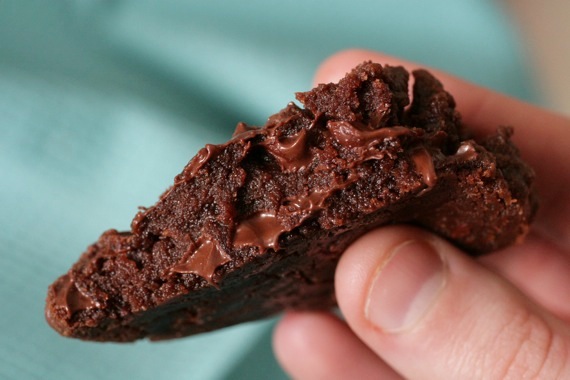 Thanks to Joel for his wonderful hand modeling skills. Nobody can hold a cookie like he can. 🙂
Giant Double Chocolate Cookies
1 cup (2 sticks) cold, unsalted butter, cubed
1 1/4 cup sugar
2 large eggs
1/2 cup dark cocoa powder
2 1/4 cups all-purpose flour
1/4 teaspoon coarse salt
1 teaspoon baking powder
2 1/2 cups semi-sweet chocolate chips
Preheat the oven to 350˚.  Line baking sheets with parchment paper or silicone baking mats.  In the bowl of an electric mixer, combine the butter and sugar.  Beat together on medium-high speed until light and fluffy, 2-3 minutes.  Blend in the eggs one at a time, scraping down the bowl as needed.  Mix in the cocoa powder until well blended.  Add the flour, salt and baking powder to the bowl and mix on low speed just until incorporated.  Fold in the chocolate chips with a spatula.  Transfer the dough to a work surface and knead briefly by hand to be sure the ingredients are well combined.
Divide the dough into 4 ounce portions (or divide into 12 equal pieces).  Roll each portion of dough into a ball and flatten just slightly into a disc.  Place on the prepared baking sheets, a few inches apart.  Bake 16-20 minutes.  Let cool on the baking sheets 5-10 minutes, then transfer to a wire rack to cool completely.
Makes 12 very large cookies.
Recipe source: Annie's Eats; originally seen on My Baking Addiction, inspired by Levain Bakery