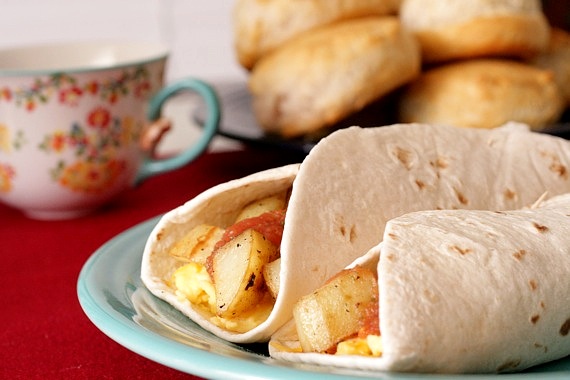 I have to confess that one of my favorite fast-food treats is Whataburger's breakfast taquitos. Particularly the potato, egg and cheese variety. They're huge and full of crispy tater tots, scrambled eggs and lots of cheese. LOVE it! Unfortunately, like most places, they stop serving breakfast at 11AM, so I can't get them at dinner time (shucks, Whataburger!), so I just made my own! These were so good and a teensy bit healthier since I didn't deep-fry my potatoes. Topped with a big spoonful of homemade salsa, these weren't only better than Whataburger's, they were some of the best breakfast taquitos I've ever had! Go me!

Potato, Egg and Cheese Breakfast Taquitos
1 large russet potato, peeled and cut into 1-inch chunks
half an onion, chopped
1 tablespoon vegetable oil
1/2 tablespoon butter
4 eggs
1/2 cup shredded cheddar cheese
salt and pepper
2 large flour tortillas (I used the burrito size)
salsa, for serving (optional)
Put the potatoes in a pot and fill with enough water to cover them. Bring to a boil and cook until the potatoes are just beginning to soften, about 5-7 minutes. You don't want them to cook all the way; they'll finish cooking in the skillet. Drain and set aside.
Heat the vegetable oil in a medium skillet over medium heat; add the onions and sauté for 5 minutes, or until soft. Add the potatoes, salt and pepper and cook for another 5-10 minutes, until the potatoes are cooked through and starting to get brown and crisp around the edges.
In a separate skillet, melt the butter over medium heat. Crack the eggs in a bowl and whisk until homogeneous. Add to the hot skillet and stir constantly, until all the eggs are scrambled. Season with salt and pepper.
To assemble: Wrap the tortillas in a damp paper towel and heat in the microwave for 10-15 seconds, until warm. Divide the eggs, potatoes and cheese between the two tortillas. Top with salsa if desired. Serves 2.
Recipe source: Sing For Your Supper original, inspired by Whataburger (thanks, Whataburger!)