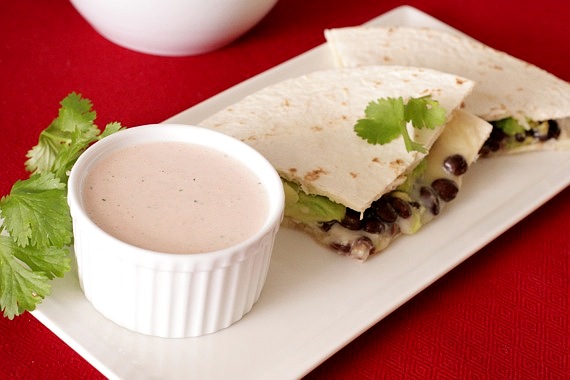 Have I mentioned how much I love quesadillas? All you need is tortillas and cheese and you've got the foundation for a great weeknight dinner! This time around, I chose black beans and avocado. Black beans are so good for you and full of flavor (we love them!) and the avocado added a nice creaminess. Add in a little grated monterrey jack cheese and cilantro and you've got a delicious dinner! I whipped up a quick dipping sauce with ranch dressing and homemade salsa that really gave the quesadillas a nice kick. We loved this meal and I'm certain I'll be making it again and again.
Black Bean and Avocado Quesadillas
4 large flour tortillas
1 cup grated monterrey jack cheese
1 can black beans, drained and rinsed
1 avocado, sliced
cilantro
Preheat the oven to 350 degrees. Line two of the tortillas with the cheese, black beans, avocado and cilantro. Place the two remaining tortillas on top and bake for 5-7 minutes, until the cheese is melted. Slice into quarters.
If desired, mix 1/2 cup ranch salad dressing and 1/4 cup salsa for dipping. Serves 2.
Recipe source: Sing For Your Supper original