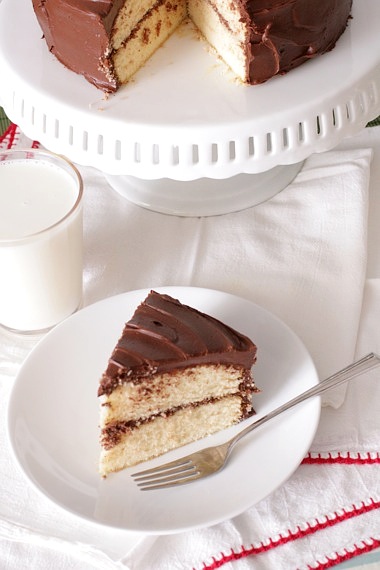 In my opinion, there's nothing better than a good old fashioned yellow cake with chocolate frosting. There's just something so comforting and homey about it. While I do love a good chocolate-on-chocolate cake, the combination of a moist, buttery yellow cake with rich, creamy chocolate frosting is unbeatable! Makes me feel as if I were sitting at my mom's kitchen table after school. I love desserts like that- nothing fancy or intricately decorated, just simply frosted, like my grandmother would do.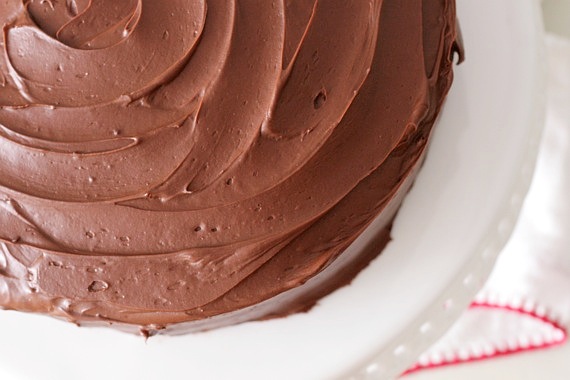 And I have to say, this is the BEST yellow cake I've ever had. I was unsure which recipe to use (there are so many good ones out there), but luckily my friend Bridget of The Way The Cookie Crumbles did an in-depth yellow cake comparison on her blog recently and took all the guess work out of it for me! Thanks Bridget (she's done lots of these comparisons on her blog, so be sure to check them all out!)! I ended up choosing a Cooks Illustrated recipe and it definitely did not disappoint! It's definitely the most moist yellow cake I've ever had and by far the most flavorful. The butter flavor really comes out and the texture is just perfect- light and tender. I paired it with my favorite chocolate frosting recipe and it was just scrumptious. We LOVED this cake (in fact, I've had an embarrassing amount of it in the past few days)!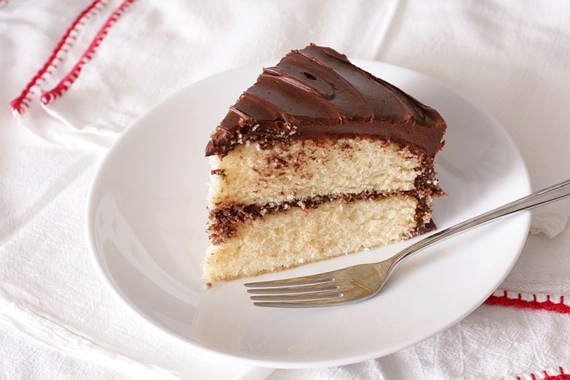 For those of you who are searching for the perfect yellow cake recipe (and I know there are a lot of you!), this is it. I've made Martha Stewart's recipe as well and it doesn't compare. It may be a little more involved than your average cake recipes, but trust me, it's worth it.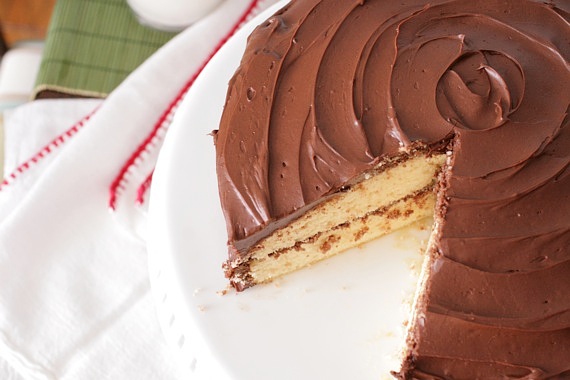 Fluffy Yellow Layer Cake
Makes two 9-inch round cakes
2 1/2 cups cake flour, plus extra for dusting pans
1 1/4 teaspoon baking powder
1/4 teaspoon baking soda
1/4 teaspoon table salt
1 3/4 cups sugar
10 tablespoons unsalted butter, melted and cooled slightly
1 cup buttermilk, at room temperature
3 tablespoons vegetable oil
2 teaspoons vanilla extract
6 large egg yolks plus 3 large egg whites, at room temperature
Adjust an oven rack to the middle position and heat the oven to 350 degrees. Grease two 9-inch cake pans and line the bottoms with parchment paper. Grease the paper rounds, dust the pans with flour, and knock out the excess. Whisk the flour, baking powder, baking soda, salt and 1 1/2 cups sugar together in a large bowl. In a 4-cup liquid measuring cup or medium bowl, whisk together the melted butter, buttermilk, oil, vanilla, and yolks.
In the clean bowl of a stand mixer fitted with the whisk attachment, beat the egg whites at medium-high speed until foamy, about 30 seconds. With the machine running, gradually add the remaining 1/4 cup sugar; continue to beat until stiff peaks just form, 30 to 60 seconds (whites should hold peak but mixture should appear moist). Transfer to a bowl and set aside.
Add the flour mixture to the now-empty mixing bowl fitted with the whisk attachment. With the mixer running at low speed, gradually pour in the butter mixture and mix until almost incorporated (a few streaks of dry flour will remain), about 15 seconds. Stop mixer and scrape the whisk and sides of the bowl. Return the mixer to medium-low speed and beat until smooth and fully incorporated, 10 to 15 seconds.
Using rubber spatula, stir 1/3 of the whites into the batter to lighten, then add the remaining whites and gently fold into the batter until no white streaks remain. Divide the batter evenly between the prepared cake pans. Lightly tap the pans against the counter 2 or 3 times to dislodge any large air bubbles.
Bake until the cake layers begin to pull away from sides of pans and a toothpick inserted into the center comes out clean, 20-22 minutes. Cool the cakes in the pans on a wire rack for 10 minutes. Loosen the cakes from the sides of the pan with a small knife, then invert onto a greased wire rack and peel off the parchment. Invert the cakes again and cool completely on rack, about 1 1/2 hours.
Perfect Chocolate Frosting
3/4 cup (1 1/2 sticks) butter, melted
1 cup cocoa powder
5 1/2 cups powdered sugar
1/2 cup milk
1 1/2 teaspoons vanilla extract
Stir melted butter into cocoa and alternately add powdered sugar and milk, beating to spreading consistency. Add a small amount of additional milk, if needed. Stir in vanilla. Makes about 3 1/2 cups frosting.
Frost cake when completely cooled, as desired.
Recipe sources: cake recipe seen on The Way The Cookie Crumbles, originally from Cooks Illustrated. Frosting recipe from Hershey's.