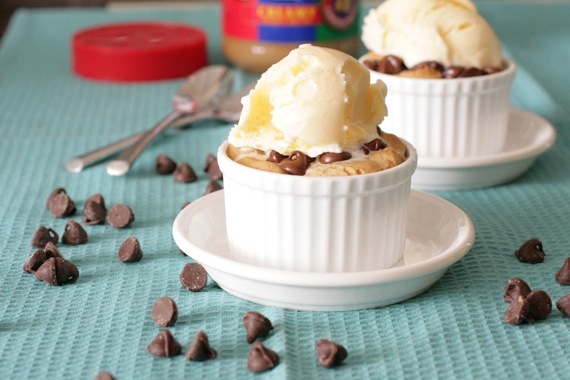 Every once in awhile, a dessert comes along that you can't stop daydreaming about. You think about it while lying in bed trying to sleep, you think about it when you're having a rough day, maybe you even think about it while you're in the middle of giving a voice lesson (ahem…not me, of course…). I mean, who can resist a warm, gooey cookie with ice cream on top? Not me. NOT me.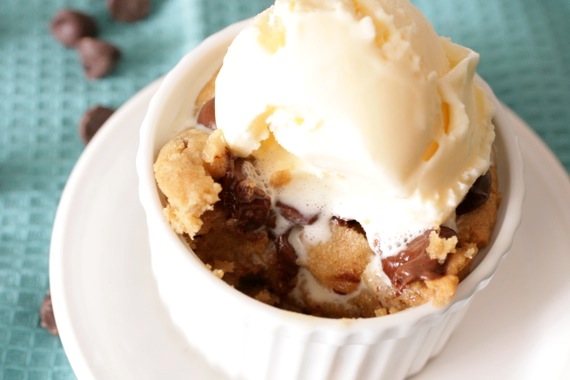 A couple of months back, I posted an excellent recipe for peanut butter cookies; after I made the initial batch, I safely tucked the extra dough away in the freezer for safe-keeping. The other night, in the midst of a warm-gooey-chocolaty craving emergency, I made these beauties. Peanut butter cookie dough, baked in a ramekin until just barely cooked (even a little gooey on the inside), then topped with chocolate chips and a big scoop of ice cream. Pretty much the best thing I've put in my mouth in a long time! I simply cannot resist warm gooey cookie dough, so this was an absolutely heavenly treat for me. Joel loved it too!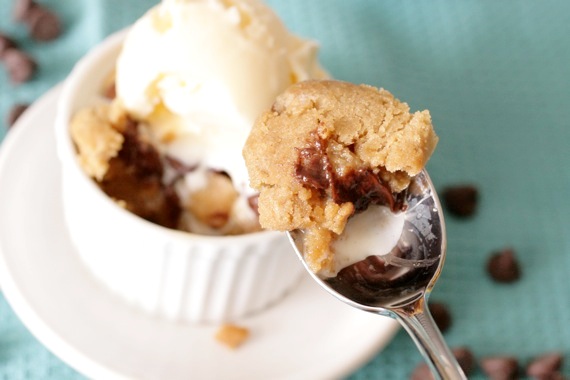 Peanut Butter-Chocolate Cookie Cups
peanut butter cookie dough (homemade or store-bought)
chocolate chips
ice cream
Preheat the oven to 350 degrees. Grease two 2 1/2-3 inch ramekins (muffin cups would also work if you don't have ramekins).
Fill the ramekins 3/4 full with the cookie dough (slightly packed). Bake for 10-12 minutes, until just beginning to brown on the outside, but still slightly undercooked on the inside (feel free to bake a little longer if you don't like it too gooey).
Top immediately with chocolate chips (as much as you'd like) and allow to melt slightly.
Top with ice cream and serve with a spoon. Perfect for late-night cravings and sweet tooth emergencies.
Recipe source: Sing For Your Supper original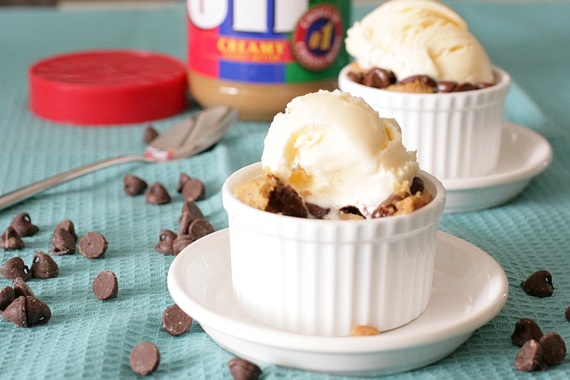 Mmmm….gooey peanut butter cookie…….