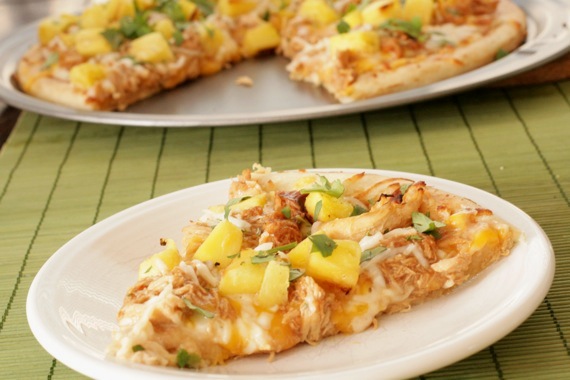 Thursday night at our house is usually "pizza night". We didn't really plan it out that way, it just sort of happened over time. By the time Thursday rolls around, I'll have cooked dinner every night that week and we're ready for something convenient, plus, we happen to live within a stones throw of the best pizza in the area. So, somehow, Thursday night eventually turned into "pizza night". But just because it happens to be "pizza night", doesn't mean it has to be take out pizza. We love making pizza at home- our favorite variety is black olives, mushrooms, green olives and fresh tomatoes, but last week we wanted something different. I had some leftover grilled pineapple from the night before and thought the classic ham/pineapple combination might be good, but honestly, I'm a little tired of that one. Then I remembered I had two small chicken breasts thawed in the fridge, so I decided on BBQ chicken pizza with pineapple and cilantro! YES!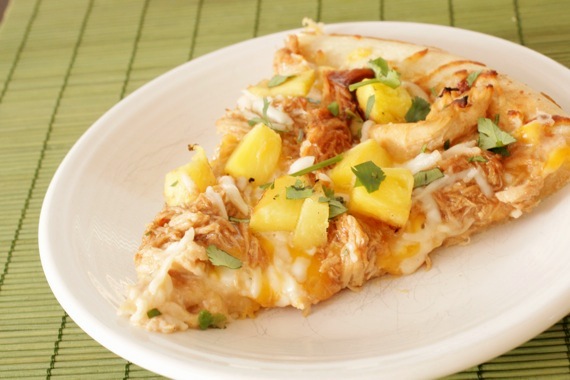 I cooked my chicken in the crockpot, then shredded it and tossed it with BBQ sauce, brushed the pizza crust with a very thin layer of BBQ sauce and ranch dressing, topped it with cheddar and mozzarella cheese, the BBQ chicken and the pineapple, then after baking, gave it a hearty sprinkling of cilantro. OMG-HOLY-YUM!!! We gobbled this up as if we hadn't eaten in days! An instant favorite! You MUST try this pizza!
BBQ Chicken and Grilled Pineapple Pizza
1 large, thin pizza crust (I used Boboli brand)
1 cup grated mozzarella cheese
1/2 cup grated cheddar cheese
2 chicken breasts, fully cooked and shredded
1/2 cup BBQ sauce, plus more for brushing on the crust
1/4 cup ranch salad dressing (*I make my own with a ranch seasoning packet, mayo and buttermilk)
fresh pineapple, cut into 1-inch pieces (however much you like- we like lots!)
fresh cilantro, chopped, about 1/3 cup
Preheat the oven to 375 degrees. Toss the cooked, shredded chicken breasts with the BBQ sauce. Set aside.
Brush the pizza crust with a thin layer of BBQ sauce (if you're using homemade pizza dough or the roll-out kind in the can, you'll need to pre-bake it for 10 minutes or so, just to crisp it up a little bit. My crust was pre-baked already, so I skipped this step), then spread on the ranch dressing. Top with the cheddar cheese and mozzarella cheese, then the chicken and pineapple. Bake for about 15 minutes, until all the cheese is melted and the crust is golden brown. Top with the chopped cilantro. Makes 1 pizza.
Recipe source: Sing For Your Supper original