Sometimes you reach a point in your month-to-month routine where you just NEED a break. Joel reached his about 2 months ago but has been so swamped, it wasn't until this past weekend that he got to finally take a day off. So what do we decide to do when we've got a beautiful, sunny 3 day weekend? We go to College Station, Texas. Joel went to college and grad school at Texas A&M University (I know most of you already know this) and loves to go back every chance he gets. I love it too and have my fair share of happy memories there. So we dropped Izzy off at my parents' house and took off- first stop, College Station.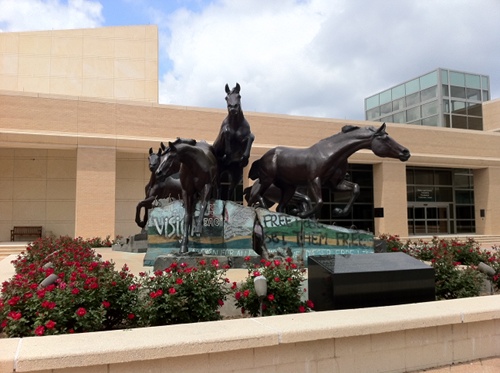 We took a tour of the George Bush Library and museum that sits on the campus of A&M. This is the Berlin wall memorial statue. There is actually a piece of the actual Berlin wall inside the museum.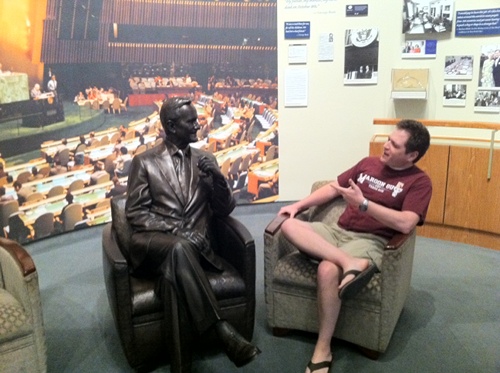 Joel is having a conversation with 'ol George. "Dan Quayle? Really???"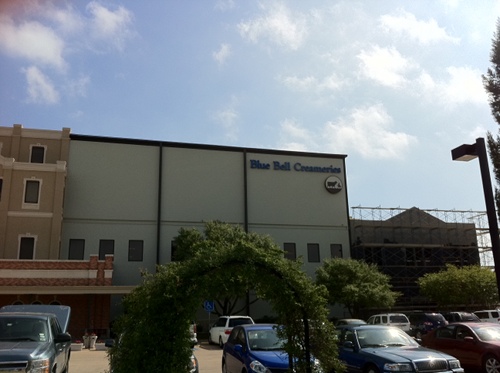 Next up, we drove to Brehnam to tour the Blue Bell factory. For those of you unfortunate souls (*cough* yankees) who aren't familiar, Blue Bell is the world's BEST ice cream. Ever. But they mostly sell it in the Southern states. And they have a new flavor that we got to try- Homemade In the Shade- it's vanilla ice cream with a fudge swirl. SO GOOD!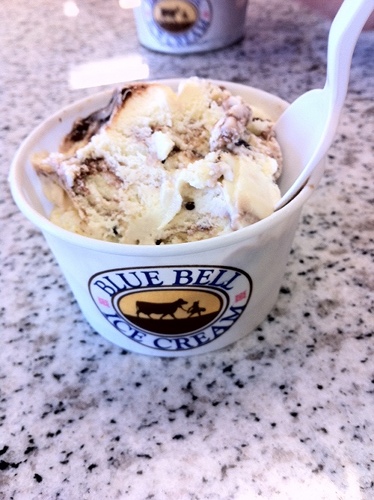 Mmmm, fudge swirl…..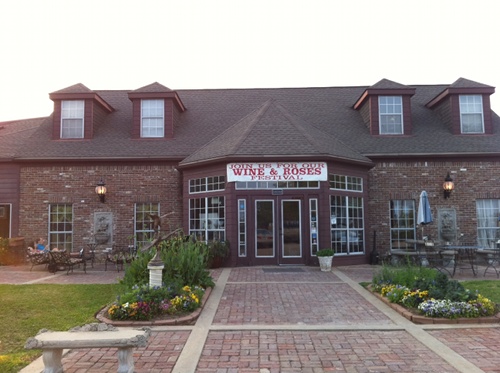 Next up, my favorite part of the trip- Messina Hof Winery in Bryan. Joel and I have always loved their wine (especially since it's a Texas wine!) and were super excited to finally get to see where its made.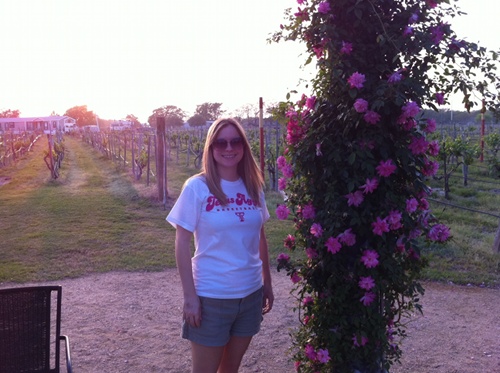 This place is absolutely gorgeous and the wine is excellent! We got to taste 4 different wines and we learned all about proper wine etiquette (those weird slurping noises, swirling the glass, etc). I highly recommend the Gewurztraminer!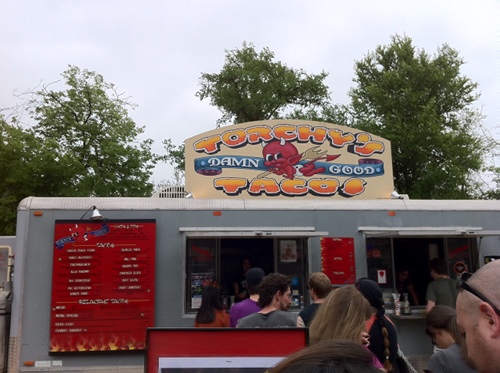 After 2 days in the College Station area, we headed over to Austin for the afternoon. First stop- Torchy's Tacos. We had the fried avocado tacos and green chile pork tacos – OMG YUM!! Joel takes his tacos very seriously and said these were two of the best he's ever had!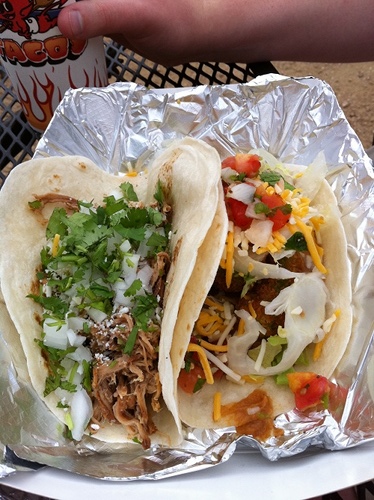 In case you're wondering, fried avocado is miraculous.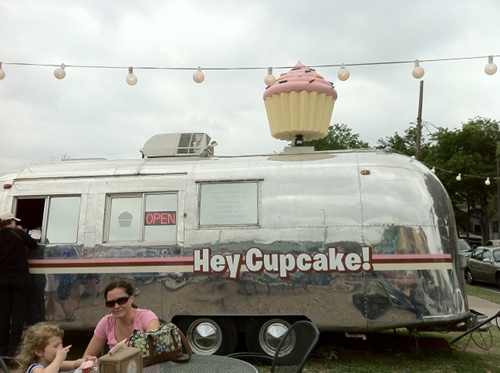 We can't forget Hey Cupcake! We first tried this place a couple of years ago and haven't forgotten it! Anytime we're near Austin, we HAVE to stop by South Congress St. and pick up a few cupcakes. My all-time favorite is the Michael Jackson- chocolate cake with cream cheese frosting. We also got red velvet and sweet berry. LOVE this place.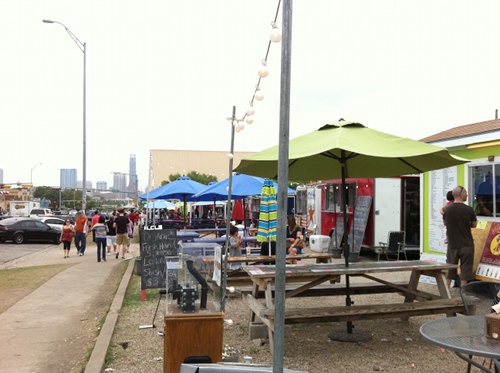 This is the food truck/trailer section of S. Congress – a whole block of trailers and food trucks full of awesome food. This place is always packed! So much character here! Our favorite part was the hippie singing songs on the corner.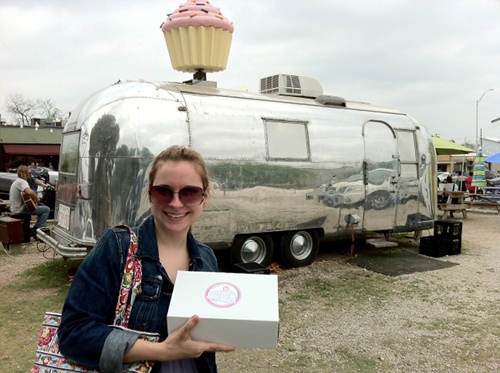 Gimme mah cupcakes! OM NOM NOM!!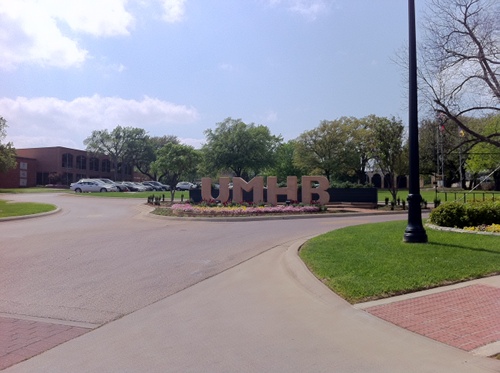 And finally, a stop in Belton, Texas to visit my alma mater, The University of Mary Hardin-Baylor. Some of the best years of my life were spent here, getting my bachelors degree in music. I have so many happy memories here- Joel coming to visit on weekends, spending time with some of the best friends I've ever had, voice lessons with Ms. Clement, the BEST voice teacher in the world, working in the music office with Ginger, singing with One Voice….so many memories.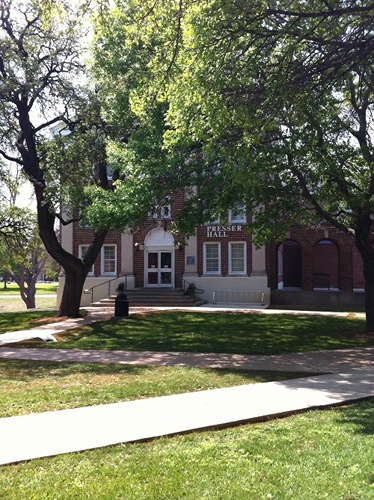 I spent practically all of my college career in this building- Presser Hall- the music building. All my classes, recitals and rehearsals were here. I love this building. Even if it is haunted.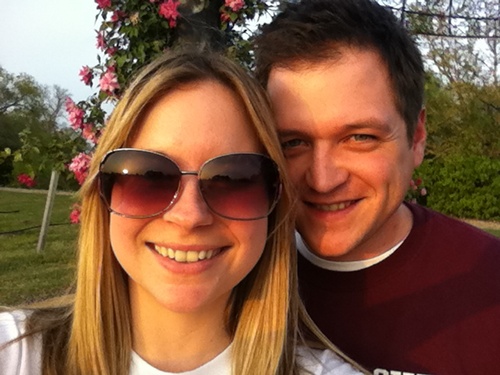 And that completes our tour of the Texas Hill Country- starting in College Station and working our way to Brenham, Bryan, Austin and Belton. We had a fantastic time and I'm happy to share some of it with you! If you're ever in Texas, be sure and visit some of these places- you definitely won't be disappointed!
Restaurants visited:
Rudy's BBQ– our favorite BBQ in the whole state!
Shipley Donuts– we don't have these in North Texas so anytime I'm down in the area, I have to stop by and get a chocolate cream filled donut!
Blue Baker– Aggieland's best sandwiches!
Cafe Eccell– delicious upscale food with the best strawberry tart I've ever had (and it totally doesn't hurt that they play Harry Connick, Jr. on their website!)! Thanks to my reader, Lauren, for the dessert recommendation!
Sweet Eugene's House of Java– we started every morning with a latte from Sweet Eugene's. My favorite- the Al Pacino.
Layne's– all they serve is chicken fingers and fries. A College Station legacy. We never miss it.
Torchy's Tacos– do NOT miss the fried avocado taco!
Hey Cupcake!– one of the many delicious food trailers on S. Congress; a must visit when you're in Austin!