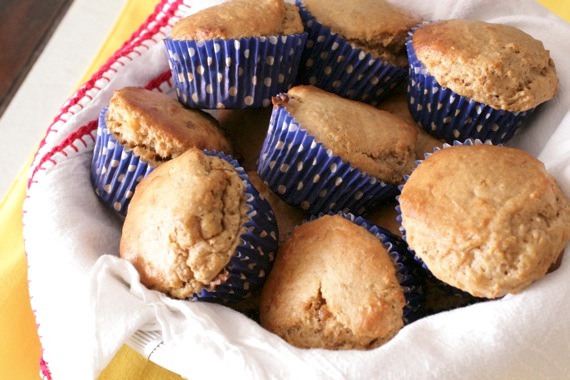 Believe it or not, every now and then I like a healthy treat. Although I mostly crave baked goods of the gooey, chocolaty variety, it's nice to take a break from all that and bake up something that's actually good for me. For some reason, the other day I had a serious craving for bran muffins….how odd. Who craves bran muffins?! Anyway, I remembered I had a box of Bran Flakes cereal in the pantry and thought I'd try making a bran muffin with it. These were actually very light and fluffy (you can thank the banana for that) and not heavy or overly "bran-y". We really enjoyed them with a little butter and honey. My coworkers loved them too! Next time you need a good, quick, healthy muffin, gives these a try- they're highly satisfying and actually good for you!

Banana Bran Muffins
1 1/4 cups whole wheat flour
1/2 cup sugar
1 tablespoon honey
1 tablespoon baking powder
1/4 teaspoon salt
2 cups bran flakes cereal
1 1/4 cups fat-free milk
1 egg
1/4 cup vegetable oil
2 ripe bananas, mashed
Stir together flour, sugar, baking powder and salt. Set aside.
In large mixing bowl, combine bran cereal and milk. Let stand about 2 minutes or until cereal softens. Add honey, egg and oil. Beat well. Add flour mixture, stirring only until combined. Stir in the banana. Spoon evenly into 12 muffin pan cups fit with cupcake liners.
Bake at 400 degrees about 20 minutes or until golden brown. Serve warm.
Recipe source: adapted from Kellogg's.com