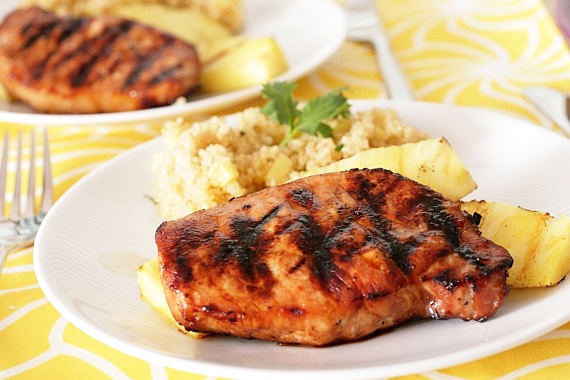 Hellooooo, grilling season! I feel like we've already done more grilling so far this Spring than the past two Springs and Summers combined! We just can't resist it! When the weather is sunny and beautiful, there's nothing better than the smell of something delicious cooking on the grill. And let me tell you, this pork smells heavenly while it's cooking! I have no doubt people all over our neighborhood were sniffing and wondering where that glorious smell was coming from! My mom has a recipe for baked Hawaiian chicken that's so amazingly good, I thought I'd experiment with pork chops on the grill. It did NOT disappoint! I can't wait to make this again and again!
Grilled Hawaiian Pork Chops
4 boneless pork chops (at least 2/3 inch thick)
1 cup soy sauce
1/2 cup brown sugar
2 cloves garlic, chopped
1 teaspoon cooking sherry
1/4 teaspoon cayenne pepper
juice of 1 lime
1/2 teaspoon ground ginger
Place the pork chops in a large ziploc bag. Whisk together the soy sauce, garlic, sherry, cayenne, lime juice and ground ginger and pour into the ziploc bag with the pork chops. Seal the bag and place in the refrigerator for at least 3 hours.
Preheat the grill to medium-high heat and cook the pork chops for about 3 minutes on each side until done. If using a meat thermometer, it should reach 170 degrees internally.
Serve with grilled fresh pineapple, if desired.
Recipe source: adapted from my mom's recipe