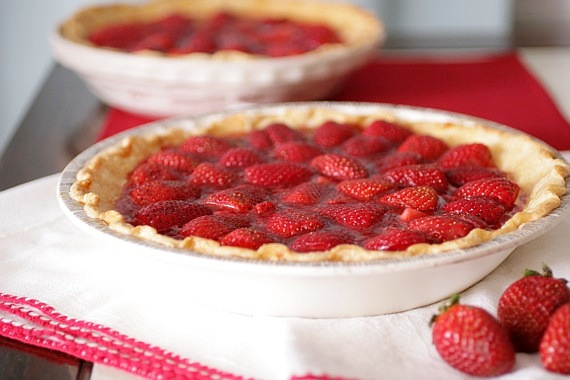 You can't get more "strawberry" than this pie. If there were a contest for desserts with the purest, most "in-your-face" strawberry-ness, this pie would totally win. It's nothing BUT fresh, juicy, sweet strawberries- no other flavor, no other texture…JUST strawberry. To me, that's heaven. It's like Summer/Spring in a pie shell. If you love strawberries like I do, this pie is right up your alley. You're going to love it.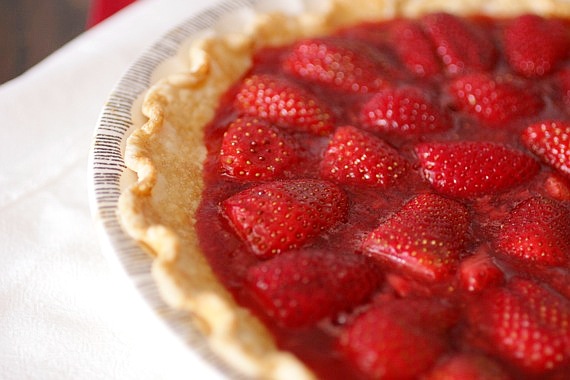 I served these pies to my family yesterday for Easter and what a treat! Such a beautiful ending to a big, delicious meal! With this recipe, I've discovered a new tradition- I intend to make these gorgeous pies every single Spring and Summer! In fact, I can't wait to make them again! I'm thinking….Memorial Day?? Oh yeah! Bring on the pies!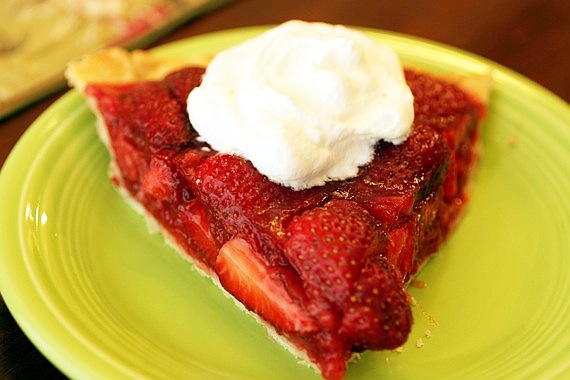 Fresh Strawberry Pie
1 9-inch pie crust, baked
2 pounds fresh strawberries, rinsed and hulled
1/2 cup granulated sugar
2 1/2 teaspoons cornstarch
1 1/2 teaspoons lemon juice, freshly squeezed
1/8 teaspoon salt
1 envelope unflavored powdered gelatin
2 tablespoons cold water
Slice about 3 cups of the strawberries into quarters and place them in a medium bowl. Crush the berries with a potato masher or a fork; you should have about 1 1/2 cups crushed berries. Place them in a saucepan over medium heat with the sugar, cornstarch, lemon juice and salt and stir to combine. Bring to a simmer, stirring occasionally for about 5-7 minutes, until the mixture begins to thicken slightly.
Soften the gelatin in the cold water and set it aside.
Remove berry mixture from the heat and add the softened gelatin and stir until the gelatin has dissolved. Set aside to cool.
Cut the remaining berries into quarters, and gently fold them into the cooled cooked mixture (if you want, you can reserve some of the strawberries to arrange on top of the pie for a more decorative presentation). Pour the filling into the baked pie shell, and chill in the refrigerator until set, at least 2 hours or overnight before serving. Makes 1 pie (I doubled the recipe for 2 pies).
Serve with fresh whipped cream if desired.
Recipe source: adapted from Rustic Garden Bistro