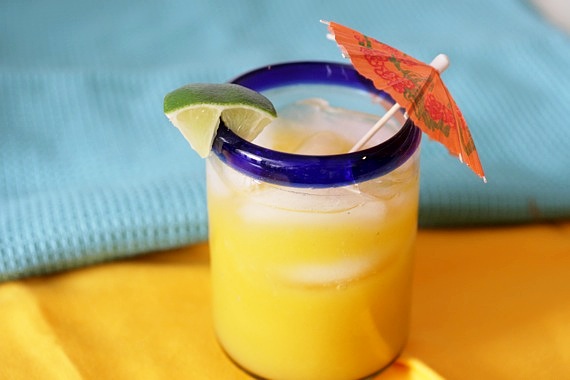 Opera rehearsals have been taking their toll lately, and I feel like I've barely seen Joel at all these past 3 weeks. However, I was lucky enough to have a couple of my rehearsals cancelled this weekend, so Joel and I made plans for a little celebration at home. 🙂 We went to the store and got all the stuff to make a huge Mexican feast! We grilled spicy, citrus-y fish, made homemade salsa and guacamole and drank these delicious sunrise margaritas- what a way to spend Saturday night! I just couldn't wait to share these margaritas with you, especially with Cinco de Mayo being only 3 days away! I think you'll really love them!
Sunrise Margaritas
2 mangos, peeled and chopped
1 cup fresh lime juice (I ended up using about 8 very juicy limes)
juice from one orange (I used a Cara Cara orange, but blood oranges would be great too)
3/4 cup Kern's peach nectar
1/2 – 3/4 cup powdered sugar (depending on how sweet you like it), sifted
1 cup tequila
1 cup triple sec (or any orange liqueur)
Place the chopped mango in a blender with the peach nectar and blend until totally pureed and smooth. Pour through a strainer to get all the little fibers out.
Place all the ingredients in a large pitcher and stir to combine. Serve over ice. Serves 4 (or 2 very thirsty people) 😉
Recipe source: Sing For Your Supper original