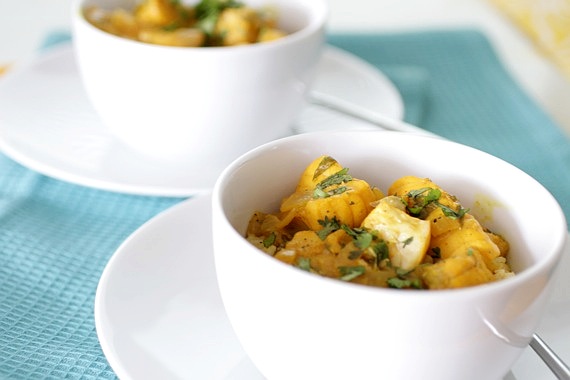 WAIT!! Before you stomp out of here thinking, "eww! That doesn't sound appetizing at all!", just hang on! Fish curry is delicious, I promise! Don't be afraid of the title- all it is is fresh, beautiful catfish filets simmered in a rich, thick sauce of coconut milk, chicken broth and warm Indian spices. Sounds pretty good after all, huh? My coworker, friend, pianist extraordinaire, and awesome home cook, Janna introduced us to fish curry. She served it to Joel at a Christmas party and he hasn't shut up about it since. So, being the sweetheart that I am, I emailed Janna and asked her for her recipe so I could recreate it for Joel as a surprise. Believe it or not, this was my very first attempt at Indian food. And I have to admit I was pretty proud of myself after this one. I nailed it.
Joel was SO impressed with this dish- he said I could certainly make this as often as I wanted! Yay me! Yay Janna! 🙂 If you've never really tried curries or Indian cooking, I strongly encourage you to step out of your comfort zone and give this a try. Not only is it ridiculously easy, it's extremely delicious. I can't wait to make this again and again!
Fish Curry
2-3 fish filets (I used catfish but flounder, tilapia, or any other white fish will do), cut into 2-inch pieces
1 large onion, chopped
3 cloves garlic, minced
2 tablespoons olive oil
2 cups chicken broth
1/2 teaspoon cayenne pepper
salt and pepper
1 teaspoon turmeric
1 1/2 teaspoons garam masala powder
1 teaspoon curry powder
1/2 teaspoon cumin
1/2 cup coconut milk
squeeze of fresh lemon juice
1 tablespoon tamarind paste (if you can't find this, just omit)
fresh cilantro, chopped
Heat the oil in a large pot over medium heat; saute the onion for about 5-7 minutes, until softened then add the garlic and saute for a few seconds more. Add the salt, pepper, cayenne pepper, turmeric, garam masala, curry powder, and cumin, chicken broth, coconut milk, lemon juice, tamarind paste and cilantro.
Bring to a simmer then reduce heat to low and add the fish, being careful not to over-stir (the fish will break apart). Cook for 10-15 minutes, stirring occasionally (very carefully) until the fish is cooked through. Serve over basmati rice. Serves 4.
Recipe source: adapted from my friend Janna