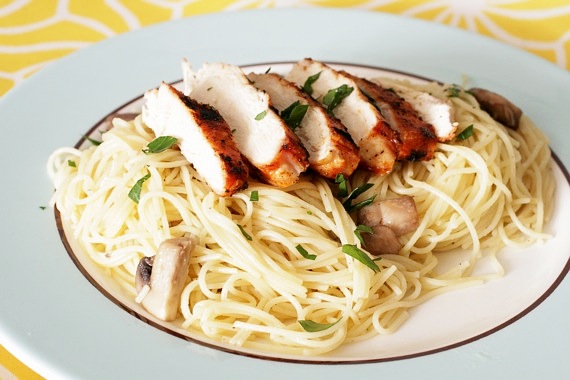 This is the time of year I crave simple, light, quick dishes that aren't overly heavy and take hardly any time to prepare. Hence, my love for this dish. I had an abundance of fresh mushrooms and a couple of leftover grilled chicken breasts the other night, so I threw together my favorite pasta. Nothing fancy, just angel hair tossed with a little butter and olive oil and topped with grilled chicken and sauteed mushrooms. Ahhhh. I could seriously eat this every night. I know it sounds almost too simple, but it hits the spot every time! The next time you've had a busy, long day and need a quick, satisfying dinner- try this!
Pasta with Mushrooms and Grilled Chicken
1/2 pound angel hair pasta
2 boneless chicken breasts
7-8 baby portabella mushrooms, sliced (as much as you like, really)
olive oil
butter
salt and pepper
fresh parsley, chopped (optional)
Cook the pasta according to the package instructions and drain. Season chicken with olive oil, salt and pepper and grill on medium-high heat for about 6 minutes on each side until cooked through. Slice the chicken into thin slices.
In a skillet, heat 1 tablespoon butter and 1 tablespoon olive oil over medium heat and saute the sliced mushrooms for about 5 minutes, until soft. Season with salt and pepper.
Toss the pasta with a few tablespoons of olive oil and butter (again, as much as you like- you don't want to drown it in oil, just enough to give it some flavor), salt and pepper.
Divide the pasta between two plates and top with the mushrooms and chicken. Sprinkle with parsley. Serves 2.
Recipe source: Sing For Your Supper original (however, I'm sure I'm not the first person to think up pasta topped with chicken 😉 )