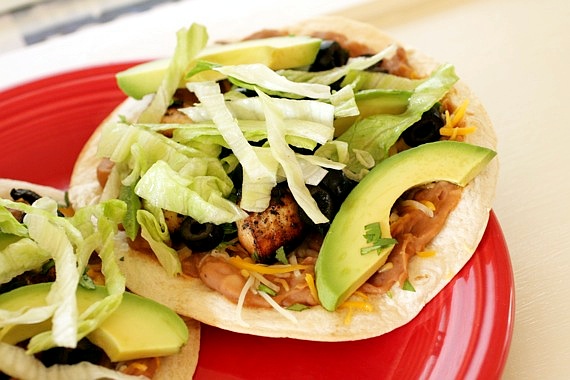 Hello friends! Guess what- I'm finally in my 2nd trimester and starting to feel a little better! I'm at 15 weeks now and the baby's the size of a large navel orange- which means I'm starting to look….um, "plump". Personally, I don't really think I look pregnant- just fat. Oh well! 🙂
I made these tostadas for dinner awhile back and they tasted so good! And they're insanely simple to make (plus, Joel grilled the chicken for me, which made it even easier)! They're so versatile- you can use any meat you like and any toppings. A vegetarian version would be great too!
Easy Chicken Tostadas
2 boneless, skinless chicken breasts, cut into 1 inch chunks
1 can refried beans
sliced black olives
shredded cheddar cheese
shredded lettuce
salsa
1 large avocado, sliced
4 flour tortillas
For the marinade:
juice of 3 large limes
2 tablespoons vegetable oil
1 heaping teaspoon brown sugar
handful cilantro, chopped
1/2 green bell pepper, roughly chopped
1/2 onion, roughly chopped
2 cloves garlic, roughly chopped
Preheat the oven to 350 degrees.
Place the chicken and marinade in a large ziploc bag and refrigerate for at least 1 hour. Remove the chicken from the bag and discard the marinade. Grill chicken pieces over medium-high heat for about 6-8 minutes, turning occasionally, until fully cooked.
Heat the refried beans in a small pan over medium heat until hot (I like to stir in a little liquid smoke and a splash of jarred jalapeno juice to jazz it up).
Spray the tortillas with a little cooking spray and place on a baking sheet; bake for about 5 minutes, until crisp. Spread each tortilla with a thin layer of beans then top with the cheese, black olives, salsa, chicken, lettuce and avocado. Serves 2.
Recipe source: Sing For Your Supper original