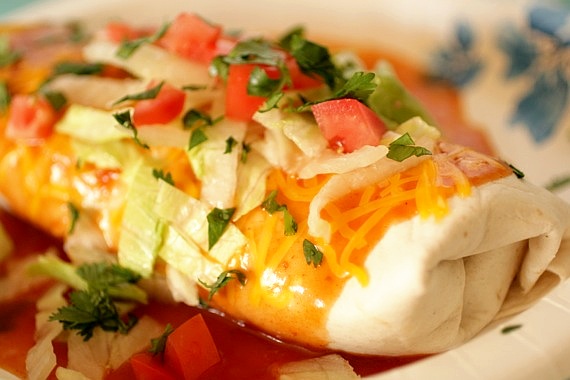 It's no secret that I'm a sucker for sloppy Tex-Mex. I love pretty much anything doused in enchilada sauce covered in cheese- it's my weakness (well, one of 'em). The other night I was craving Mexican food pretty bad (it happens a lot lately) and I decided to whip up these burritos. They took no time to make and tasted awesome. You'll have to excuse the fact that I had to photograph them on a paper plate…we've been in the middle of having some renovations done and I packed all my dishes up temporarily. If you're in need of a quick, delicious meal, try these burritos- they won't disappoint!
Smothered Burritos
1 pound ground beef
1/2 teaspoon chili powder
1/2 teaspoon cumin
1/8 teaspoon garlic powder
1/8 teaspoon onion powder
1/4 teaspoon salt
1/4 teaspoon pepper
1 (4.5 ounce) can diced green chiles
1 (16 ounce) can refried beans
half a (10.75 ounce) can condensed tomato soup
1 (10 ounce) can enchilada sauce
burrito-sized flour tortillas, warmed
shredded cheddar cheese
Garnishes:
shredded lettuce
chopped tomatoes
shredded cheddar cheese
chopped green onions
sliced black olives
cilantro
avocado
Brown ground beef in a skillet over medium-high heat and drain.  Stir in chili powder, cumin, garlic powder, onion powder, salt and pepper. Stir in the green chiles and turn off heat; keep warm. Warm the refried beans in a small skillet over low heat.
In a saucepan, combine the tomato soup and enchilada sauce. Mix well, and cook over medium heat until heated through.
Place a warmed tortilla on a plate and spread some of the refried beans into the center; sprinkle with cheese, then spoon some of the ground beef mixture onto the center. Tuck in the ends of the tortilla and carefully fold into a burrito. Spoon some of the enchilada sauce over the burrito and top with additional cheese and garnishes. Repeat with remaining tortillas. Serves 4-6
Recipe source: Adapted from allrecipes.com