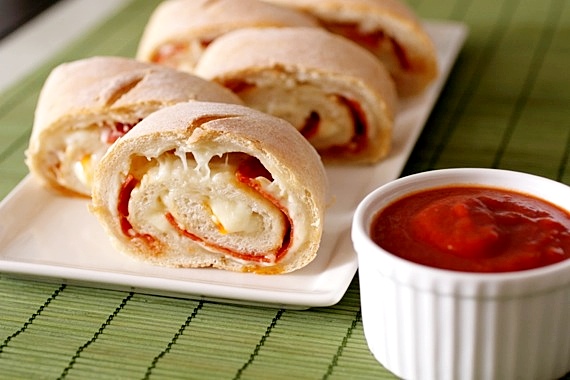 Fightin' Texas Aggie Football is in full swing, so naturally we're watching every single game on tv (the ones we don't go to in person). I don't know about you, but I need something yummy to snack on while I watch a football game, otherwise I get….bored. In fact, usually once the food is gone I pretty much lose interest in any sporting event. I know…I guess that makes me what Joel calls a "2 percent-er". Oh well. A few weeks ago when we were enjoying one of the (few) particularly good Aggie games on tv, I whipped up this cheesy pepperoni bread and BOY did we gobble it down! It's perfect football food! I used a store-bought can of bread dough, so it really saved a ton of time and came together lightening quick. We loved it dipped in marinara sauce- overall, a totally yummy snack that I'm sure I'll be making over and over again every football season!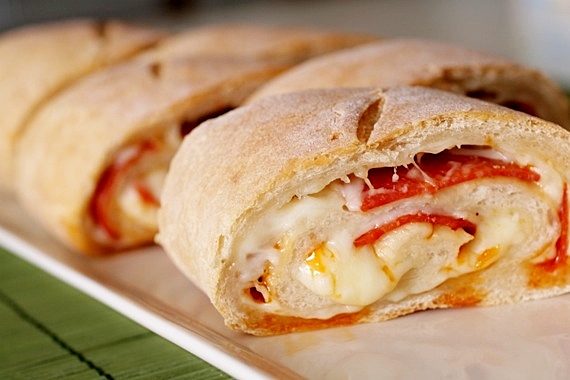 Cheesy Pepperoni Bread
1 can store-bought Pillsbury Italian or French bread (you could absolutely make your own dough- I was just short on time)
1 cup shredded mozzarella cheese
sliced pepperoni
marinara sauce for dipping
Preheat oven to 350 degrees. Unroll the bread dough so that it makes a large rectangle. Sprinkle generously with the mozzarella cheese, then top with desired amount of pepperoni. Carefully roll the dough jellyroll style into a loaf and place seam side down on a baking sheet lined with parchment paper or foil. Bake 18-20 minutes, or until the top is golden brown.
Recipe source: adapted from Brown Eyed Baker