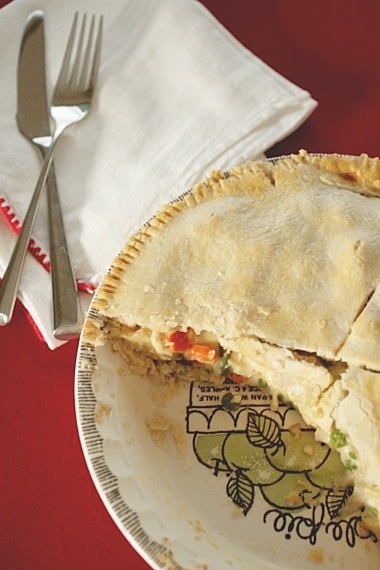 This picture doesn't really do this chicken pot pie justice, but I was losing daylight fast and had to snap a quick picture before the whole thing disappeared! We LOVE chicken pot pie. It's one of those great comfort foods that seem to make a hard day just melt away. I love the creamy white sauce with the juicy chicken and tender vegetables- an absolute winner! I've been making this exact recipe for 5 years now and it never, ever disappoints. I normally use store-bought pie crusts because it saves time, but you could absolutely make your own and be totally authentic. 🙂
So, the next time you're tempted to throw one of those frozen numbers in the microwave- consider making yourself a gorgeous homemade chicken pot pie instead. You'll be SO glad you did!
Chicken Pot Pie
2 large bone-in, skin-on chicken breasts
1 cup sliced carrots
1 cup frozen green peas
1/2 cup frozen green beans
2 medium Yukon Gold potatoes, cut into chunks
1/3 cup butter
1/3 cup chopped onion
1/3 cup all-purpose flour
1/2 teaspoon salt
1/4 teaspoon black pepper
1 3/4 cups chicken broth
2/3 cup milk
2 (9 inch) unbaked pie crusts
Preheat oven to 400 degrees. In a medium pot, cover chicken with water and boil for 30-45 minutes, until tender. Remove bones and skin and shred chicken with two forks and set aside. In a saucepan, combine chicken, carrots, peas, green beans and potatoes. Add water to cover and boil for 15 minutes. Remove from heat, drain and add to shredded chicken.
In a saucepan over medium heat, cook onions in butter until soft and translucent. Stir in flour, salt and pepper. SLOWLY whisk in chicken broth and milk. Simmer over medium-low heat until thick. Remove from heat and set aside.
Press bottom crust into a pie dish and place the chicken mixture in the crust (depending on how deep your pie dish is, you may have a little extra filling- just be sure not to overfill). Pour white sauce over. Cover with top crust, seal edges, and cut away excess dough. Make several small slits in the top to allow steam to escape.
Bake in the preheated oven for 30 to 35 minutes, or until pastry is golden brown and filling is bubbly. Cool for 10 minutes before serving.
Recipe source: adapted from allrecipes.com