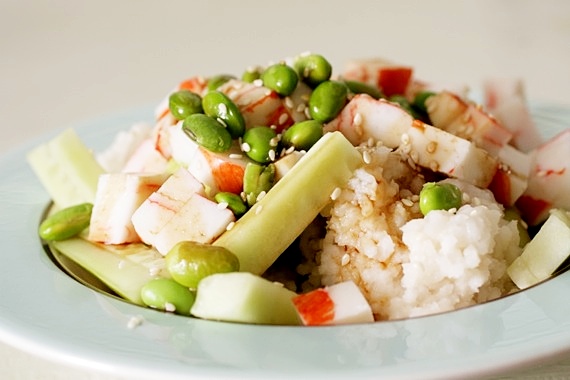 You all know how much we enjoy sushi, and even though Joel and I found making sushi at home to be extremely easy, we opt for a slightly easier version every now and then. Like these sushi bowls. It's the most ingenious idea ever and SO easy! Gather up all your favorite sushi fixin's, pile it in a bowl and voilà– sushi bowl awesomeness! We used cucumbers, imitation crab meat, avocado, shelled edamame and our favorite spicy sauce- the mayo/sriracha sauce; and BOY did we love this! If you're searching for a quick, delicious weeknight dinner, I highly suggest making these; for one thing, it's a heck of a lot cheaper than going out for sushi and it's ready in no time! Perfect!
Sushi Bowls
1⅓ cups rice, rinsed well
1⅓ cups water
3 teaspoons rice vinegar
2 teaspoons sugar
1 cucumber, peeled and cut into sticks
imitation crab meat (as much as you like), cut into sticks
1 avocado, sliced and cut into chunks
shelled, steamed edamame (as much as you like; you can find pre-shelled edamame in the freezer section of most grocery stores)
1/4 cup sesame seeds, toasted
1/4 cup mayonnaise
1/2-1 teaspoon sriracha hot sauce, depending on how spicy you like it
soy sauce and wasabi for serving
Rinse the rice. Place the rice and water in a medium saucepan and bring to a boil over high heat, uncovered. Once it begins to boil, reduce the heat to the lowest setting and cover. Cook for 15 minutes. Remove from the heat and let stand, covered, for 10 minutes.
Combine the rice vinegar and sugar in a separate small bowl and heat in the microwave on high for 30 to 45 seconds, until the sugar dissolves. Transfer the rice into a large bowl and add the vinegar mixture. Fold and cut thoroughly to combine and coat each grain of rice with the mixture. Allow to cool. Do not refrigerate.
In a small bowl, combine the mayonnaise and sriracha; set aside.
Pile the rice, cucumber, crab meat, avocado and edamame in individual bowls and top with sesame seeds, soy sauce/wasabi (if desired) and sriracha mixture. Serves 4.
Recipe source: adapted from The Way the Cookie Crumbles