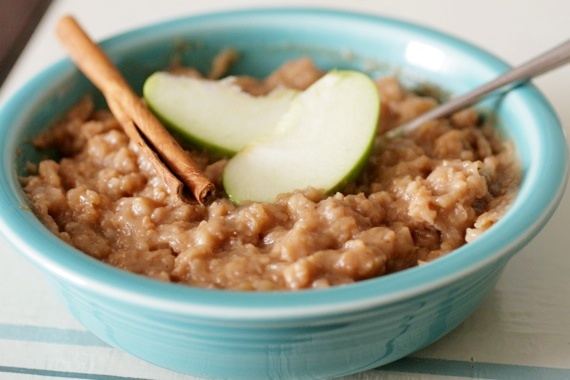 My house is an absolute wreck. A disaster zone. A nightmare. We're still in the big middle of renovations (we should be long-since finished by now, but you know how these things go…), so all of our furniture is piled in the middle of rooms, half of our carpet is rolled up and disgusting looking, our stairs don't even have carpet on them, so all that's there is ugly, torn up padding and tack strips, and up until last night there was a layer of dust 1 inch thick covering every surface of my kitchen and dining room. And on top of all that, we just had a baby shower recently, so there's baby stuff all over the place and nowhere to put it! It's. A. Mess. Luckily, (hopefully…) everything will be finished by the end of this week (please, Lord!). So, with all this madness, stress and clutter everywhere, you can imagine I haven't done much cooking. And by much, I mean practically none. That's where the beauty of this recipe comes into play. You throw your oats, water, spices and fruit in the slow cooker and let it do its' thing overnight. In the morning, you've got hearty, delicious oatmeal waiting for you. No standing over the stove stirring involved. It's a beautiful thing. Not to mention really, really delicious. Give this a try this week- your family will love it!
Overnight Apple Cinnamon Oatmeal
1 cup steel cut oats**
3 1/2 cups water
1 medium-large apple, peeled and chopped (I like Honeycrisp or Pink Lady)
1 1/2 teaspoons ground cinnamon
1/4 teaspoon nutmeg
1/4 cup brown sugar
Spray a slow cooker with non-stick spray and place the oats, water, apple, cinnamon, nutmeg and brown sugar inside. Stir to combine. Cover, set to low, and allow to cook overnight (about 8 hours). In the morning, stir the oatmeal one last time before serving. Serve with milk and additional brown sugar if desired. Serves 4.
**you don't have to use steel cut oats, but it's highly recommended -the texture will be mushier with regular oats since they cook for so long.
Recipe source: adapted from allrecipes.com