Throughout my years of blogging, I've had the honor of participating in several virtual showers for some of my closest blogging friends. And it just so happens it's time again for another virtual shower- except this time…it's MINE! Yippee!!! My sweet, sweet friend Kelsey of Apple A Day offered to throw me a baby shower waaaay back when I first announced we were expecting and I've been looking forward to it all this time! She's gathered up a fantastic group of my favorite bloggers and they've all made goodies in honor of our sweet baby girl: Cassidy Grace (I figured it was about time to debut her name on here!). I am so excited about this and LOVE each and every one of these girls so much! Here we go: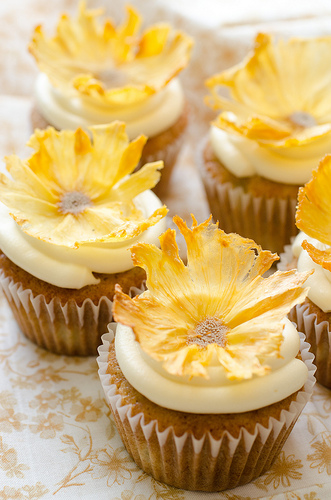 First up, Nikki of Pennies On A Platter made these (*stunning*) Hummingbird Cupcakes. For those of you who have never had the pleasure of tasting a hummingbird cupcake before, it's a moist cake studded with bananas, pineapple and coconut, topped with luscious cream cheese frosting. Sounds good, right? And I love the gorgeous dried pineapple slices on top- what a gorgeous cupcake!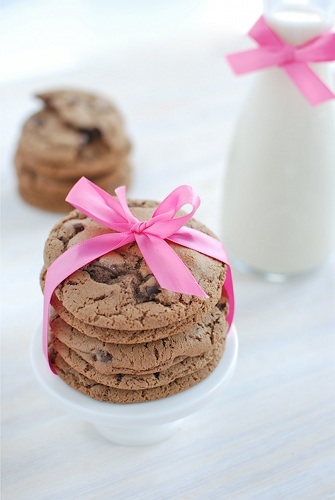 Jessica of The Novice Chef made these decadent Triple Chocolate Malt Cookies. Look at all that chocolaty goodness (and I love the sweet little pink bows!)! I've never actually had cookies with malt powder in them before, so I'm reeeeally wishing this shower wasn't virtual! Jess, mind driving a couple dozen of these over to Texas?? I'll leave the porch light on for ya! 😉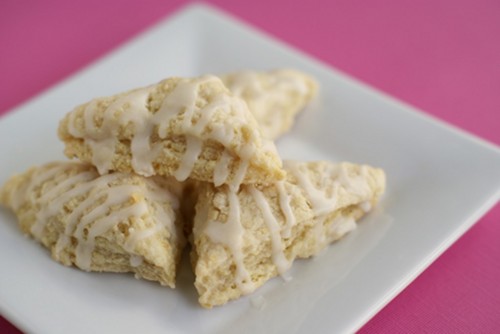 Ashley (another Aggie- Whoop!) of Delish (who has her own new little one!) made these yummy Glazed Key Lime Mini Scones. I have a love for all things 'mini' and these look seriously dangerous- I could see myself popping these babies like popcorn! Key lime happens to be one of my favorite flavors, so I will definitely be trying these soon!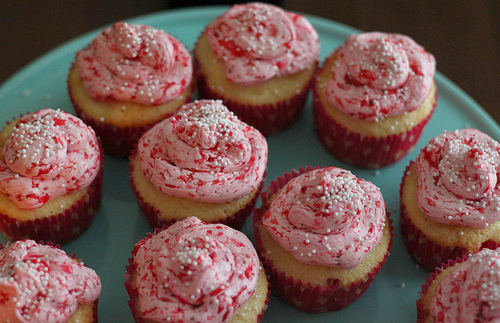 My good buddy Amy of The Nifty Foodie made these awesome looking Yellow Cupcakes with Strawberry Swiss Meringue Buttercream. In case you're wondering, Swiss meringue buttercream is no ordinary frosting; it's smooth, velvety and extra special. In my opinion (and many other food bloggers), it's the most luxurious of all frostings! I'm loving the specks of fresh strawberry in the frosting, too- just beautiful!
Next up, Krystal of Mrs. Regueiro's Plate made these adorable Salted Caramel Apple Bites. Umm…YUM! I recently went through a phase where all I wanted was caramel apples (true story…), so these are especially tempting! Like little bites of fall! And with Thanksgiving just around the corner, I'm thinking these would make an excellent addition to any Thanksgiving dessert spread!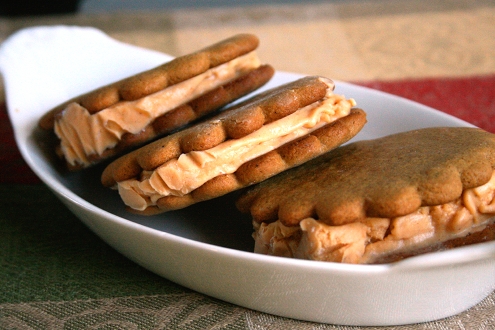 Brady of Branny Boils Over made these sweet little Gingerbread and Pumpkin Ice Cream Sandwiches. The great thing about having baby showers in the fall is the awesome fall-themed treats you get to have! Gingerbread and pumpkin go so well together, so I can only imagine how yummy these taste! And I love the pretty scalloped edges!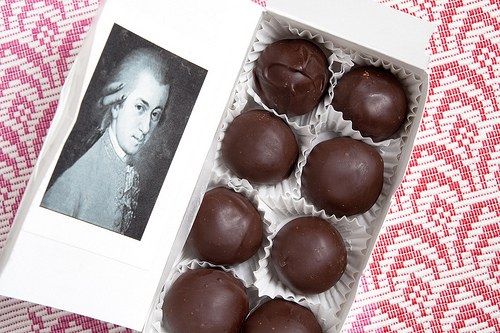 Suzanne of Koko Cooks made these (freaking sweet!) Mozart Balls. Suzanne is a fellow musician, so she gets my love for Mozart. (though, she's probably not as much of a freak about it as I am…) 😉 And since there's a chance Cassidy could be born on Mozart's birthday (her due date is 2 days before…think I can hold her in until then??), I think these are the perfect treats for my baby shower! For those of you who don't know, Mozart chocolate is HUGE over in Europe- they're sweet little balls of chocolate, marzipan and pistachio. Even Izzy discovered she has a love for Mozart chocolate (so much so, we had to pay $400 to keep her from OD'ing on the stuff after she snuck around and found my stash a couple of years back…).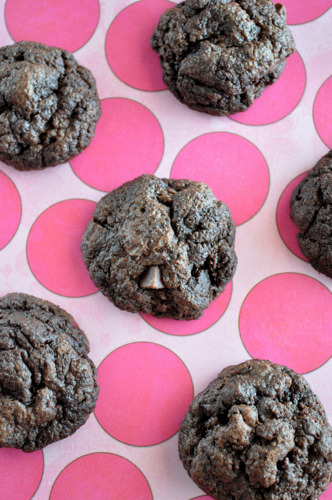 Up next, my good friend (in real life as well as blogging) Jessica of My Baking Heart made Chocolate Gooey Butter Cookies. Ok, that title alone is enough to make me start drooling! Anything with the words 'chocolate', 'gooey' and 'butter' in it is an automatic winner in my book! Jess and I have been friends long enough that she knows me and my love for all things gooey and chocolaty! Nailed it, Jess! 🙂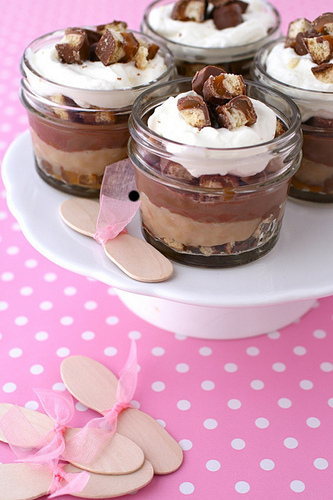 Annie of Annie's Eats made these sinful looking Twix Trifles. I definitely have a weak spot for Twix and I'm almost too embarrassed to admit I stashed away a bag of mini Twix at Halloween that disappeared all too quickly. I'm loving those luscious, chocolaty layers and the sweet pink bows on the spoons! A perfect baby shower treat (although, now I'm seriously craving Twix!). Gosh, too bad all my Halloween candy is long gone….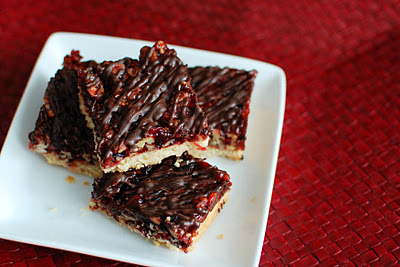 Jen of Beantown Baker made these delicious looking Cranberry Turtle Bars. Chocolate, cranberry, pecans and a buttery crust??? What a knockout! This is another dessert that would really wow people at Thanksgiving (I'm getting so many great ideas here!). I'll take 5, please! 🙂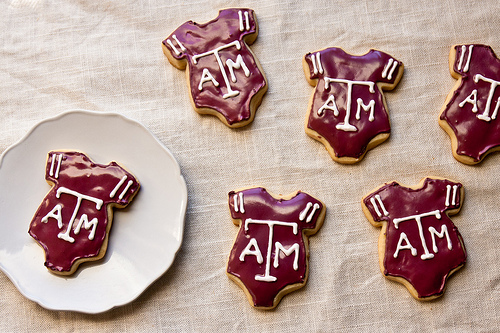 OMG, y'all…up next…..the BEST cookies ever! Fellow Texan, Shawnda of Confections of a Foodie Bride made these adorable A&M Onesie Cookies. I'm so touched (especially since I know how much she hates A&M!) 😉 and totally in awe of how awesome these are. Joel loved these too! We already have a fair amount of A&M onesies, stuffed animals and cheerleader outfits, so why not add cookies to the list?!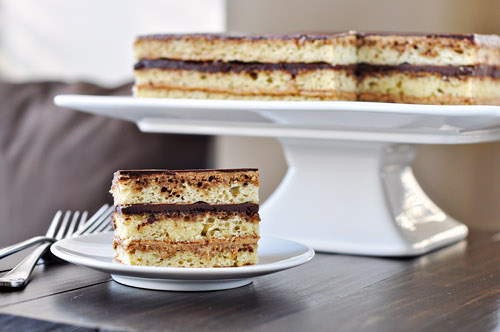 Courtney of Cook Like a Champion (also a mommy-to-be of a sweet baby girl!) made me this gorgeous Opera Cake. How sweet is that? Opera cake is an almond sponge cake moistened with espresso syrup and filled with layers of espresso buttercream (yum!) and chocolate ganache. An absolute delicacy and Courtney was SWEET enough to make one for me! I am just DYING for a slice of this!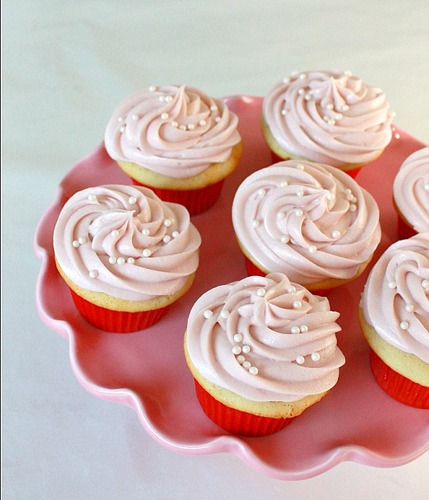 And finally, my sweet friend Kelsey of Apple A Day made these luscious Buttermilk Cupcakes with Pomegranate Cream Cheese Frosting. Oh man. Pomegranate cream cheese frosting?? YES, please! These look moist, rich and absolutely delicious; and the sugar pearls add an elegant finishing touch. What a classy looking cupcake! A perfect finale for my virtual baby shower. Kelsey, you sure know how to put together a perfectly beautiful virtual baby shower! 🙂
I am so fortunate to have the BEST blogging friends out there- friends who really know me and know my favorite foods, interests and hobbies. Friends who take time out of their busy lives and schedules to participate in a virtual shower for me.  Having friends like that is sweeter than the sweetest buttercream frosting, folks! I'm really, really blessed.  🙂
Kelsey, I can't thank you enough for your kindness in putting all this together- you are SUCH a wonderful friend and I can't wait for us to (finally!) meet in person someday (soon, ok?!). And to each and every fabulous blogger who participated, THANK YOU! Your special treats made my mouth water and I'm sitting here wishing I could taste every single one of these goodies in person! I'm feeling very loved right now…. thank you, all!