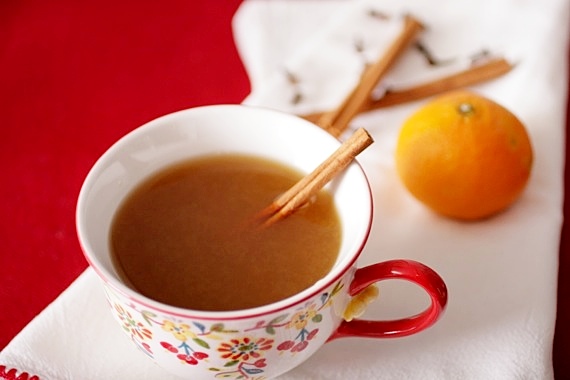 Thanksgiving is only 4 days away. So why am I posting a Christmas recipe? Well, you can really make this wassail anytime of the year, but we just happen to make it at Christmas (my mom has made it every year since 1982!), thus making it "Christmas wassail". I happen to think this would be a wonderful addition to any Thanksgiving day celebration- guests could sip on it while they mingle and wait for the meal, or it could be served after the meal with pie. Joel and I decided to put up our Christmas tree this past weekend instead of the day after Thanksgiving and I made a giant pot of this wassail to sip on while we decorated. Let me tell you, this stuff is WAY better than any holiday candle, potpourri or scentsy burner you can find! It permeates the entire house and makes it smell heavenly while it simmers! It's one of my very favorite things and I can't imagine the holiday season without it! Whether you make this for tree decorating day (the best day of the year!), your family Thanksgiving or just a random evening, I hope you enjoy it as much as my family does!
Christmas Wassail
2 quarts apple juice or apple cider
1 48-ounce can pineapple juice
juice of 2 lemons
1/2 cup sugar
1/2 teaspoon allspice
4 or 5 cinnamon sticks
15-20 cloves, pushed into an orange or apple
Mix all ingredients in a large pot or dutch oven. Cover and cook on low for 2 hours.
*Alternatively you can cook it in a slow cooker on high for 2 hours.
Recipe source: my mom