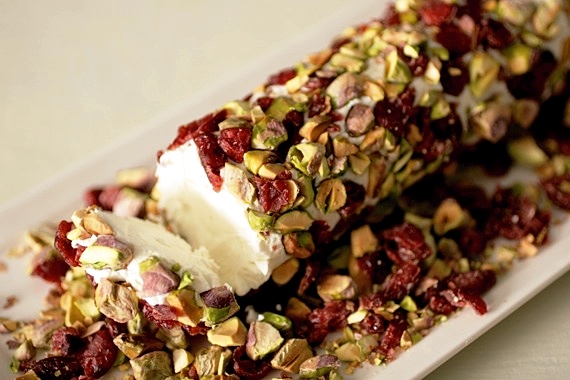 Well, it looks like we all survived the Christmas hustle and bustle! I hope you all had as wonderful a Christmas as we did! Although there was lots of driving involved, we had so much fun with our families and ate SO much good food! Joel and I certainly enjoyed our last Christmas as a twosome, but we couldn't help but dream of next year's Christmas and how special it will be with Cassidy! 🙂
And now that Christmas is over, it's time to start thinking about yummy New Year's Eve snacks! Joel and I always have lots of different snack foods on New Year's Eve instead of a big meal. We enjoy just staying home and enjoying a nice, quiet evening just the two of us (all that is sure about to change, huh?!). I'm thinking this year we'll definitely be snacking on this appetizer for sure! I tried it just over a week ago when we had my parents and grandparents over for a nice meal (like we do every year before Christmas). I wanted a quick, easy, delicious appetizer that would require as little work as possible so I'd have more time for the rest of the cooking. I've had this recipe saved on Pinterest for weeks and weeks now and it turned out to be exactly what I was looking for. SO good! We all crowded around it and couldn't stop eating it! The combination of the toasted pistachios and sweet cranberries was just ideal. I'll be using this recipe again and again! If you're headed to a party this New Year's Eve or even just staying in like we do, this appetizer is just perfect! I hope you enjoy it as much as we did!
Goat Cheese Log with Pistachios and Cranberries
1 8-ounce log goat cheese
1/2 cup pistachios, shelled
1/2 cup dried cranberries, roughly chopped
sliced baguette or crackers for serving
In a small pan over medium-high heat, toast the pistachios until fragrant; about 3-5 minutes, stirring occasionally. Let cool.
Combine the pistachios and cranberries in a plate and roll the goat cheese log in the mixture until completely coated. Place on a serving dish and sprinkle the remaining pistachio/cranberry mixture around the log. Allow to sit out at room temperature for at least 15 minutes before serving so the cheese will soften nicely and become more spreadable. Serves approximately 6-8.
Recipe source: Real Simple